With a name like "Drip," you know this email service provider is focused on automation. In fact, here are the first words that greet you on their homepage: "Lightweight marketing automation that doesn't suck." Their goal is to give you a lightweight (yet effective) alternative to bulky programs like InfusionSoft, and you'll get it a fraction of the price.
Let's find out how these claims hold up…
PRICE
Drip offers the following plans: Basic, Pro, Business and High Volume. In all cases, you can send unlimited emails. The Business and High Volume accounts give you additional features, such as SalesForce integration and removing the Drip branding from your campaigns.
Here is the current pricing scheme for Drip email marketing: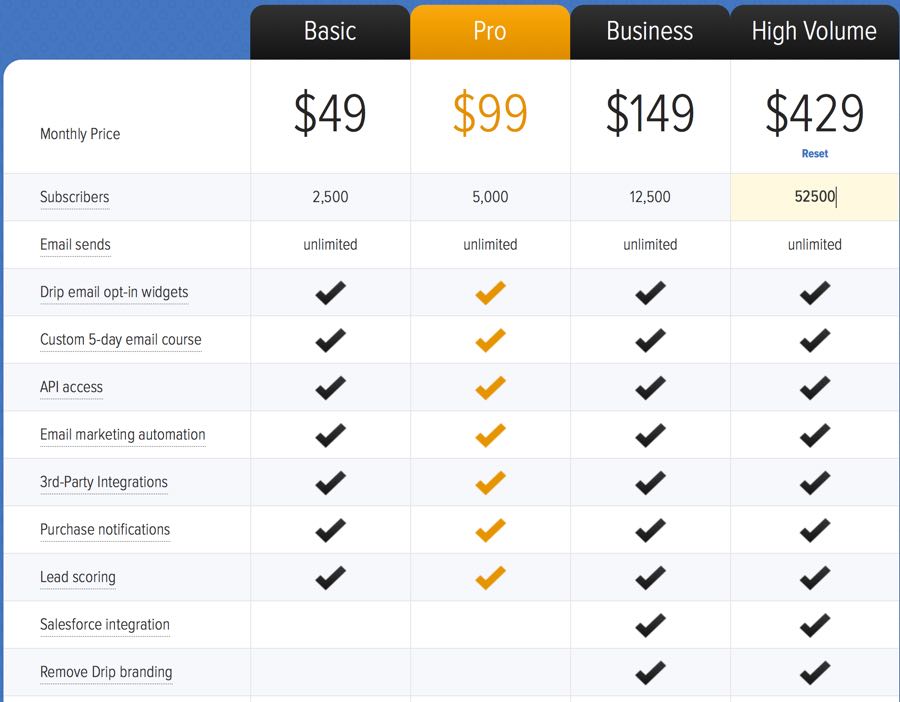 If you'd like to try before you buy, you can take advantage of a 21 day free trial. You will need a credit card to begin your trial.
If you'd like to try before you buy, you can take advantage Drip offering a free trial for 21 days, with credit card required. Or just visit the site to learn more, just click the button below.
CORE FEATURES
Let's see what you get for the monthly price…
Broadcast: Yes.
Schedule/drip sequence:  Yes. You can tell by their name that this is one of the service's main focal points.
Newsletter templates: No. However, both plain text and HTML emails are supported.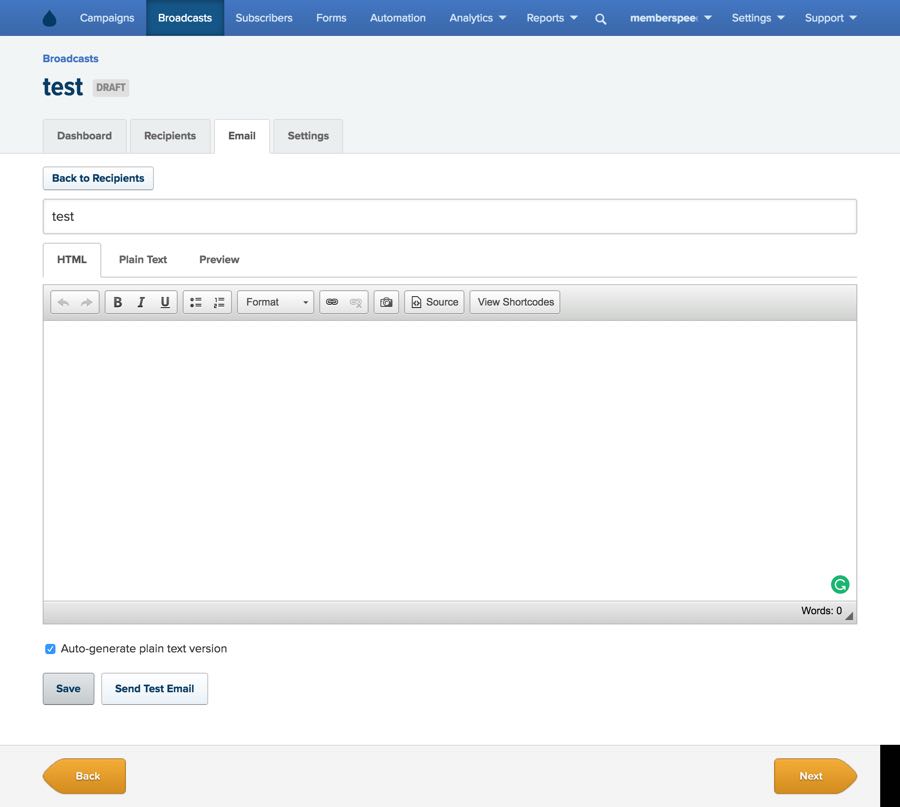 Sign up form output: HTML, hosted URL, and widget (that you can place on any page of your website). You can also choose the option for an exit-triggered pop-up.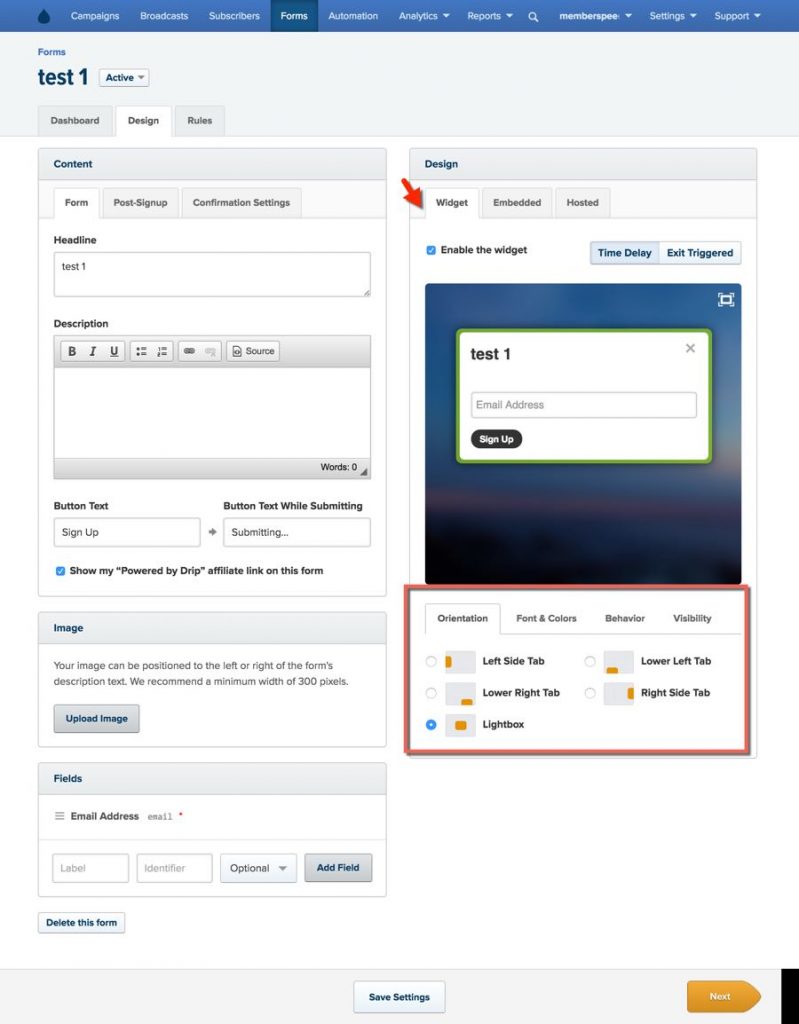 Sign up form templates: No, but both plain-text and HTML formats are supported.
Landing page: No.
Confirmation email sent regardless double opt-in or single opt-in: No, not if you choose single opt-in.
API available?  Yes.
Blog broadcast (RSS to email):  Yes.
Import contacts without asking them to verify email again?  Yes. Drip offers a tool to help you import contacts, or you can even use their concierge service.
Export: Yes.
Platform: Web.
ADVANCED AUTOMATION FEATURES
Drip prides itself on providing only the tools you need without the extra bloat. Take a look at what they offer….
List Segmentation: Yes.
With Drip you can segment on a wide variety of demographics and behaviors. Drip also helps you with dynamic segmenting, which you can do over time as you learn more about your subscribers.
For example, when your subscribers first sign up you might just ask them a question or two for segmenting purposes. If you ask any more than that, people won't complete the sign up process. Then later on in the sales funnel you ask more questions – a question or two here and there until you have a good picture of what each subscriber wants. Add that to actual subscriber behavior, such as whether they click on certain links or buy something, and you'll have a well-segmented list. And if you do this using automation, then the whole process becomes easier.
You can even segment according to lead score. That means you can try to warm up some leads that aren't very responsive, or you can reward your most engaged leads.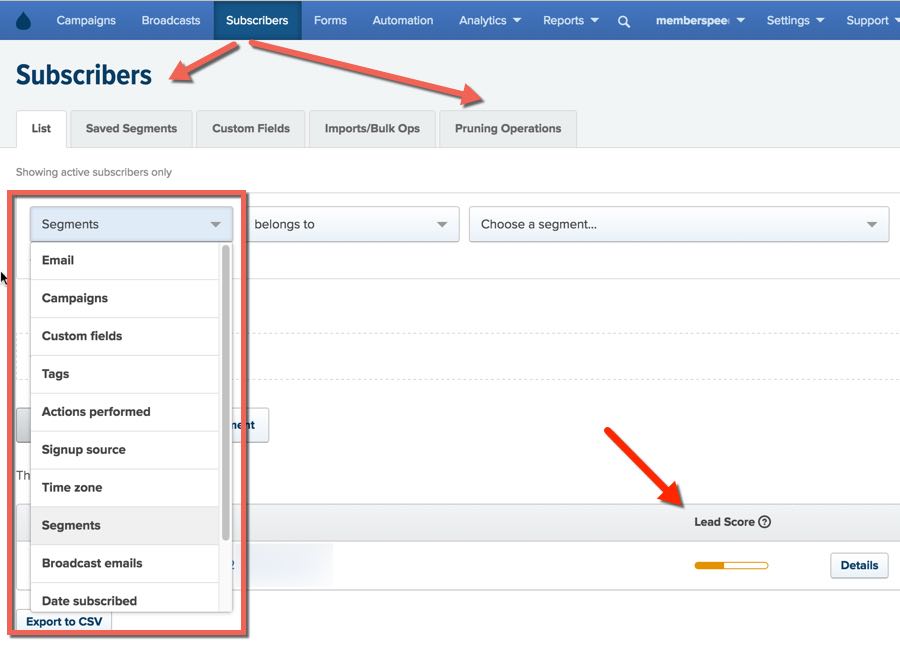 Speaking of automation…
AUTOMATION RULES: YES.
This is where Drip really shines, because their business is built on offering powerful automation workflow and rules.
It's all built on a visual platform so you can better visualize how your subscribers and customers will move through your sales funnel.
One feature that makes Drip different from its competitors is that you can create a workflow that lets you reward subscribers for specific actions by letting them jump ahead in the workflow. That's because you can design your workflow around goals, which isn't something you'll find in very many other platforms.
You can also set up automation rules, where you pick a trigger and then choose what action to perform based on that trigger. Currently Drip has 11 triggers and 14 actions that you can mix and match to create your own automation rules.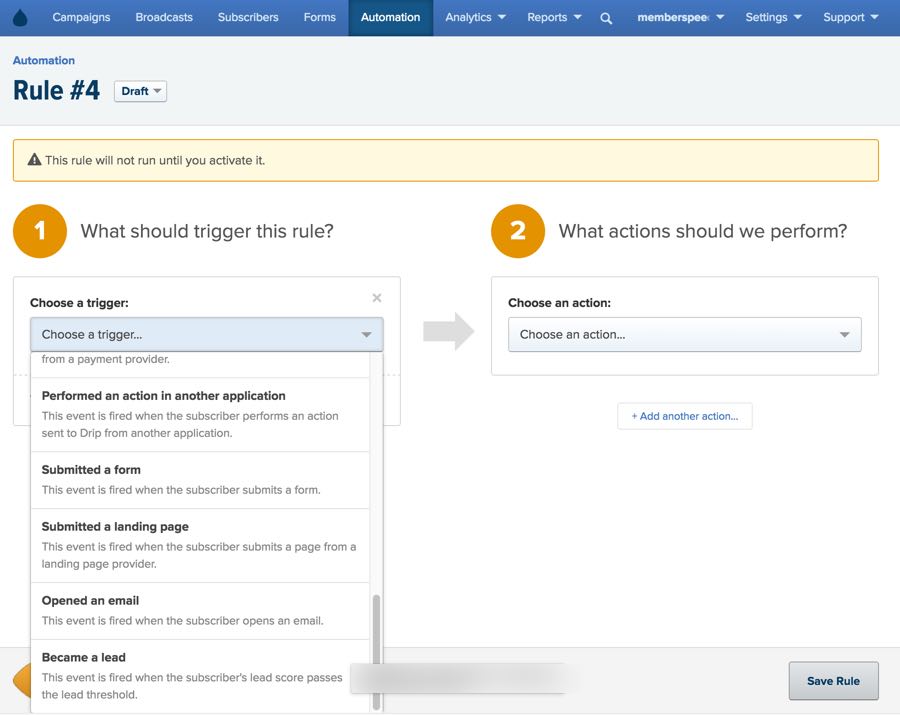 Another feature of Drip is that you can automate things like tagging, which brings us to the next point…
Tagging: Yes.
Drip automates the process by letting you tag users who engage in a specific activity, such as opening an email or clicking a link.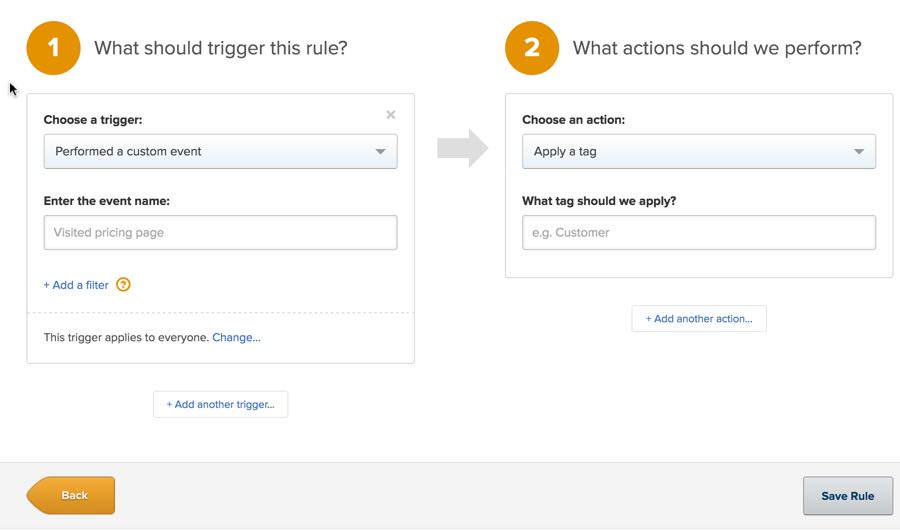 Split Testing: Yes.
You can split test delivery time, the subject line and the from name.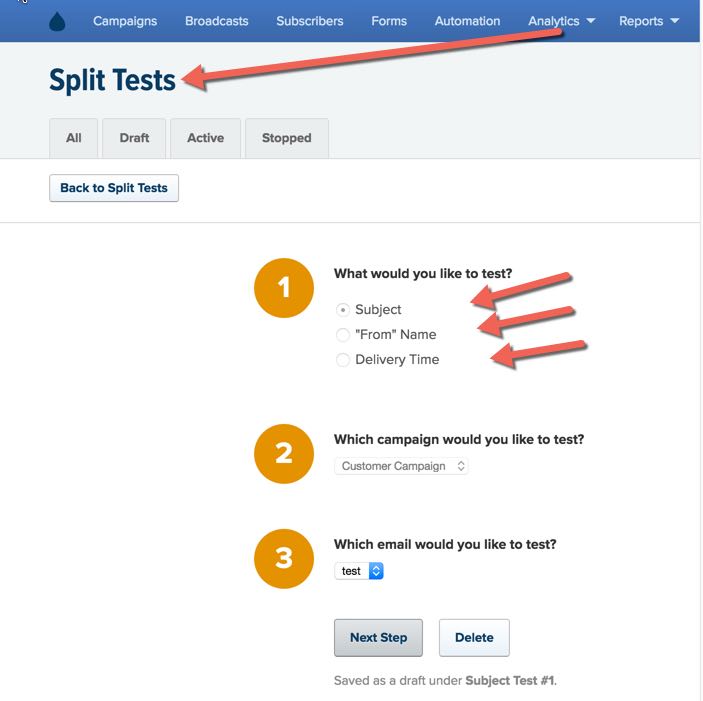 SMS/Text Messaging: No.
Visual Campaign Building Tools: Yes. And in fact Drip prides themselves on offering an intuitive and powerful visual platform.
Lead Scoring:  Yes. Their algorithm tracks a number of activities so that you can quickly and easily identify your best and most-engaged leads.
CRM: Yes, you can integrate with SalesForce.
INTEGRATION WITH THIRD-PARTY APPS
Drip integrates with over 30 apps, including popular ones such as Zapier, Shopify, PayPal, Authorize.net, and more.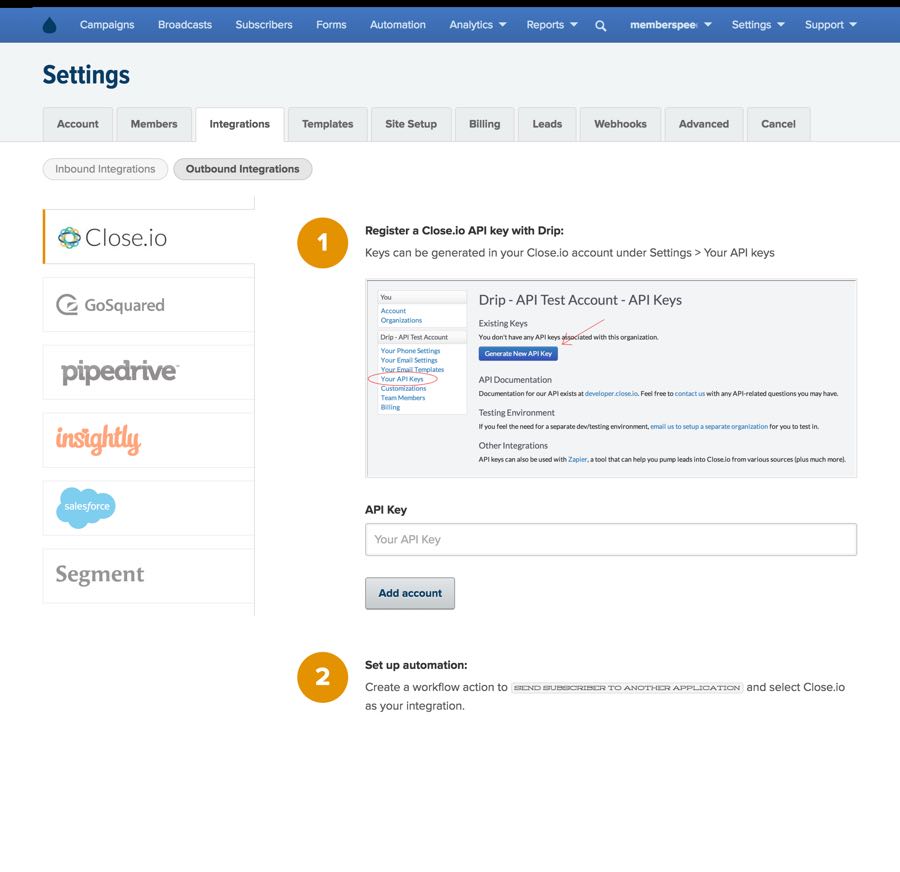 EASE OF USE
Here's what you'll see when you log into your Drip dashboard: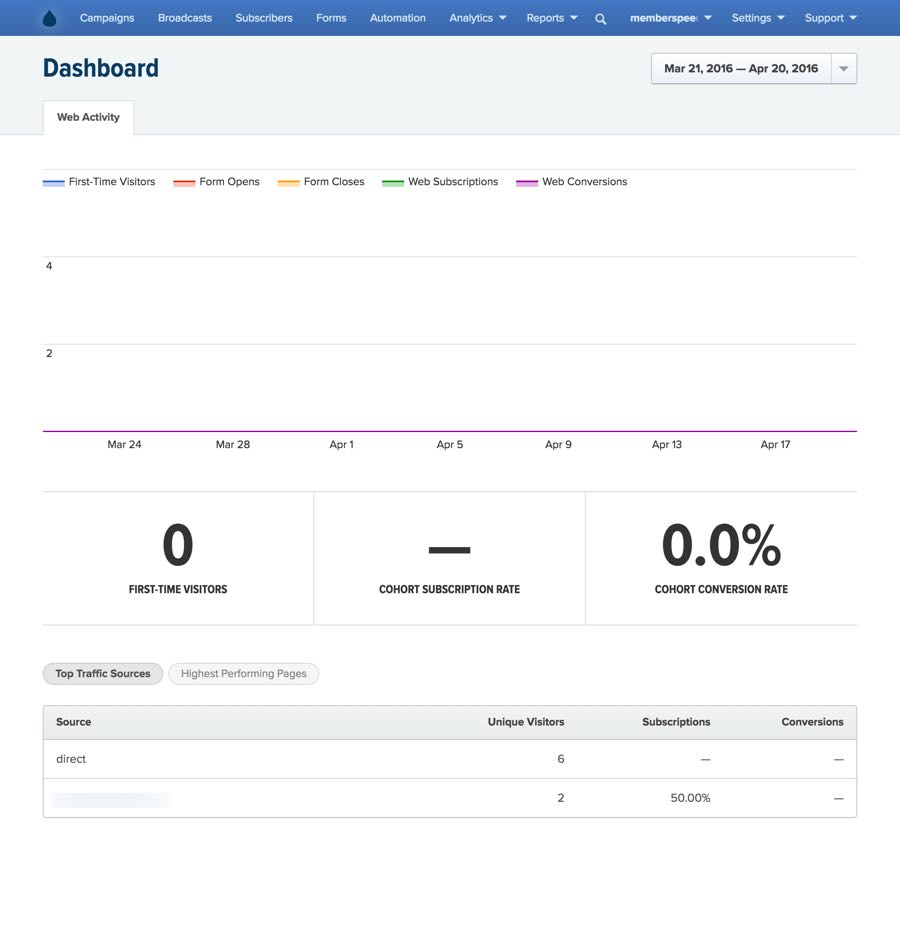 Drip is extremely user-friendly and newbie friendly. There's no learning curve since it's so intuitive, so anyone can jump in and start building their lists and managing their leads right way.
SUPPORT
Help is available through the help desk, where you can expect a reply within 24 to 48 hours.
DELIVERABILITY
Drip's reliability and deliverability rates are as good as the big guys. That's because Drip uses the email sending service sending Mandrill, as well as Rackspace's mail service Mailgun. Both of these services are rated as extremely fast, secure and reliable. That's why top companies such as GitHub, Uber and Stripe use them, among others.
WHO CAN USE IT?
Drip is a good choice for small business owners, bloggers and software developers. If you've tried other platforms like InfusionSoft and felt like you were paying too much for a lot of features that you didn't even use, then you may consider Drip as a lightweight alternative.
CONCLUSION:
Drip Bottom Line: Pros and Cons
PROS:
Super powerful, loaded with features with a clean, simple, and beautiful interface.
Super easy to use, with little-to-no learning curve.
Gorgeous visual workflow builder.
Time-saving email templates.
Excellent price for the included features, especially compared to big CRM solutions like InfusionSoft.
CONS:
There aren't too many negatives with this platform. However, they don't cater to affiliate marketers, so you'll need to look elsewhere if you fall into that category.
Did their claims hold up, well, here's our take on it… Drip is a newer service and was recently acquired by LeadPages  and that with the LeadPages team behind them they could improve over time.
If you'd like to try before you buy, you can take advantage Drip offering a free trial for 21 days, with credit card required. Or just visit the site to learn more, just click the button below.
See how Drip stacks up against other email automation services that we've fully tested and reviewed in our "Top 5 Email Marketing Software Compared & Reviewed" blog post.
Latest posts by Nam Ybarra
(see all)