JVZoo originated as an ecommerce platform in 2011 that was designed to cater to vendors who wanted to run affiliate programs. Its founders sought to improve on other popular platforms at the time (such as Clickbank) by offering features not found anywhere else. Today JVZoo is favored by many internet marketers due to its feature-rich and affiliate-friendly platform… This JVZoo digital platform review will help you take a closer look to see if JVZoo is right for you…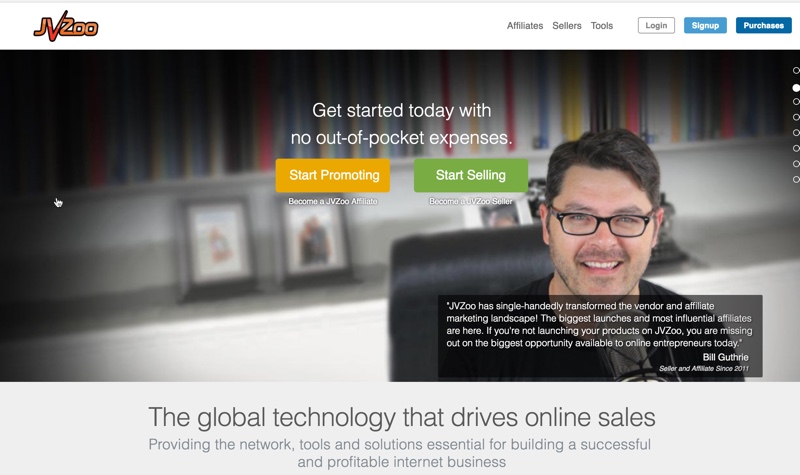 Fees
JVZoo's fees are straightforward:
Activation fee: None.
Monthly fee: None
Transaction fee: 5% per sale
Naturally, you'll pay fees to your payment processor/payment gateway.
Payment Methods
When you sell through JVZoo, you can accept payments through the following processors:
Stripe
PayPal
AuthorizeNet
Key Features
One Time Payments: Yes
Recurring Payments: Yes, so you can set up membership sites or other products or services where you charge customers on a weekly, monthly or other regular basis.
Offer Trials: Yes
Dime Sale:  Yes
Coupon: Yes, you can distribute coupons to your prospects and customers.
Sales Funnel: Yes, you can offer upsells and downsells.
List Building: Yes. JVZoo lets you automatically add customers to certain autoresponders. GetResponse, Aweber, and a few other well-known autoresponders are supported.
Hide Products from the marketplace but still can accept sales:  Yes.
Custom IPN to integrate with external/other scripts: Yes.
Reporting: Yes.
Unique Features
One great feature is that JVZoo will take care of split-shares management for you automatically. This means that you can pay up to three joint venture partners every time a sale is generated.
Another feature that makes JVZoo stand out is their sales funnel management. When people come to your checkout page, you can offer upsells and downsells to increase your per-transaction earnings.
Still another good reason to use JVZoo is that they allow both you and your affiliates to get paid instantly. You can set a delay option for the affiliate, which is recommended to prevent fraud. If you know and trust your affiliates, then you can pay them instantly.
JVZoo also lets you instantly subscribe your buyers to your autoresponder list. This is a quick way to build a buyers list without making your buyers jump through any unnecessary hoops.
Digital Files Security
Here you get a choice: you can host the files yourself, or you can let JVZoo host them for you. Most vendors opt to host the files themselves. That's because JVZoo doesn't have the sophisticated file access control built in that you'll find on other advanced platforms such as SendOwl.
Affiliate
As mentioned, JVZoo was built with affiliates and joint venture partners in mind. Check out these features…
Instant Affiliate Program Setup: Yes.
JV Profit Sharing: Yes, and you can share profits with up to three joint venture partners per transaction.
Instant Affiliate Payments:  Yes, although you have the option to delay payments to help prevent fraud.
Max commission to affiliate: There is no restriction, so you can offer 100% commissions for list-building purposes.
Automatic Bonus Delivery: Yes. This is a great feature for your affiliates, as it lets the system deliver the bonuses so that they don't have to deliver them manually.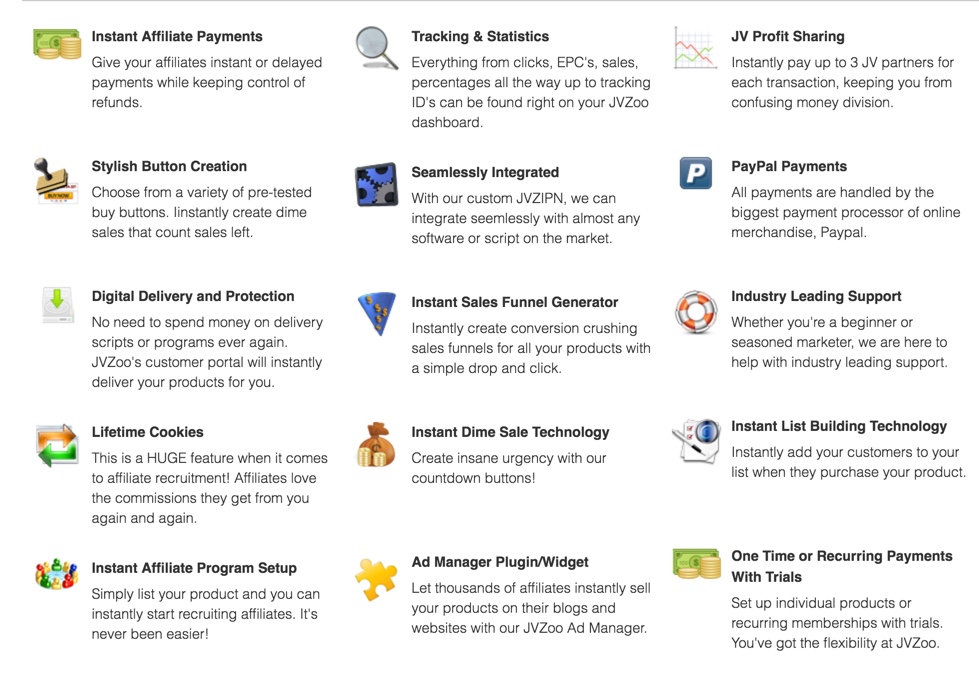 On-form payment: No
The checkout page is hosted and visible on JVZoo, which means you lose the power of your own branding and continuity to some degree. (Which in turn can lower conversions.)
The other problem is that the system creates a new JVZoo account for the buyer. Some buyers have been confused by this, because they receive a login and transaction receipt from JVZoo itself as well as information coming from the vendor (such as login information, transaction/receipt, welcome emails, etc.). Plus if the vendor is doing automatically list building, then the customer will also receive emails from the vendor's autoresponder mailing list to confirm subscription.
End result? A new customer can easily receive three or four different emails after their payment is complete. And if the customer isn't familiar with JVZoo, it may not be immediately clear to them why they're receiving these emails, and/or how they can access the product they just ordered.
Here's an example of the checkout page:
Platform Integrations/Supported
Set up is pretty simply, as all you need to do is insert a JVZoo buy button on your sales page to start accepting orders.
Take not that JVZoo does not host your sales page, so you need to host it on your own server or somewhere else. However, JVZoo can host and deliver the downloadable files to your buyers. There is a limit of 128 MB for the download, so this isn't suitable for large files such as videos.
Getting Paid
Vendors are paid instantly if you use PayPal as a payment processor. If you use the merchant option, then you will be paid when the transaction settles with the bank. Take note that JVZoo does NOT withhold funds on your sales like some other platforms do to cover refunds.
Support
You can reach JVZoo through their helpdesk.
Who Can Use JVZoo
Almost anyone can use JVZoo, but those who are in the internet marketing niche will find it most beneficial. Here's why:
Vendors and affiliates get paid instantly via their PayPal accounts (unlike other platforms where vendors have to wait for weeks).
There is no upfront fee or monthly fee to use JVZoo.
JVZoo is easy to use and loaded with smart features such as a funnel generator, automatic affiliate bonus delivery, profit-sharing with joint venture partners, adding buyers to autoresponders, instant payment and handling refunds right from your seller dashboard.
Another huge advantage is the marketplace, which has a pool of powerful affiliates which could result in a spike of sales overnight if done right.
The downside of JVZoo is the fact that they have buyers create an account during the checkout process, which could create some confusion.
Bottom line: JVZoo tops our list of favorite platforms because of its powerful affiliate marketplace, the convenience of the JV partner's profit-share function, and the smart automatic affiliate bonus delivery option.
Almost anyone can use JVZoo, but those who are in the internet marketing niche will find it most beneficial. You can learn more about JVZoo by visiting them online just click the button below.
If you want to compare JVZoo up to nine other digital platforms (Clickbank, Chec, Zaxaa, SendOwl, etc.) then check out our post "10 Top Digital Platforms Reviewed"
Latest posts by Nam Ybarra
(see all)