Paddle is a checkout, ecommerce and analytics platform that was designed with software developers in mind. If you sell software, you'll want to take a good look at Paddle. Read on…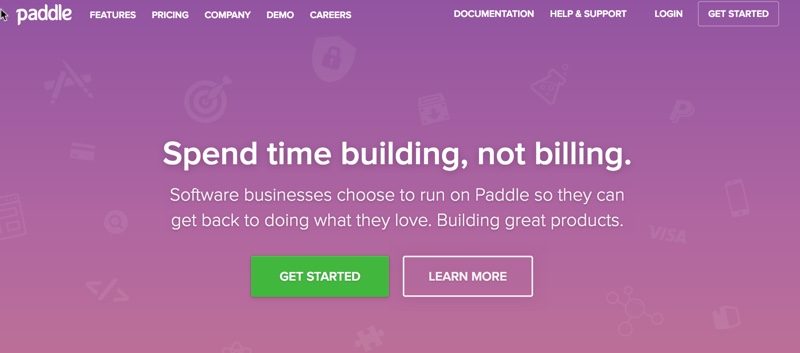 Fees
Paddle's fees are very simple: you pay 5%+ $.50 per transaction. Larger businesses can negotiate a discount (once you pass $30,000 per month in sales).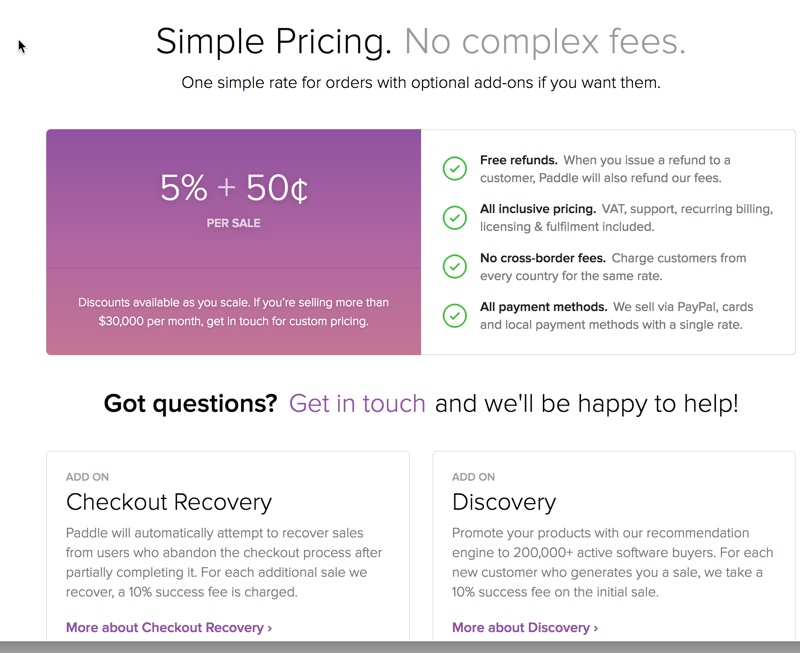 Paddle does have some paid add ons. For example, you can opt to switch on the "checkout recovery" feature, which is where Paddle sends an email to a prospect who abandoned their order midway through the checkout process. If a purchase is recovered in this manner, the fee is 10% of the transaction. You can turn this feature on or off at any time.
Another paid add on is the affiliate feature. Paddle charges a 5% transaction fee for managed affiliate sales.
Payment methods
Your buyers can pay using the following methods:[su_list icon="icon: chevron-circle-right" icon_color="#197d23″]
All major credit cards.
Purchase orders.[/su_list]
Key Features
Does Paddle have what you need to grow your business? Take a look at these key features…
One-Time Payments: Yes.
 Recurring Payments: Yes, which is a great feature if you're offering SaaS (software as a service).
 Trial: Yes, this is another great option if you'd like to give your prospects a free trial of your software before they buy.
Dime Sale:  No.
Coupon: Yes, you can offer coupons to your prospects and customers.
Sales Funnel: No, you cannot offer upsells and downsells during the ordering process.
NOTE: They do offer an "in app purchase" option. So if you're selling software, you can sell it directly from within the app (such as if you offer a free trial or lite version).
List Building: No, you cannot automatically add buyers to your mailing list.
Hide Products from the marketplace but still can accept sales: Yes.
Custom IPN to integrate with external/other scripts:  Yes.
Reporting: Yes.
Unique Features
One of Paddle's unique features is that they allow you to sell bundled products, which you may opt to do at a discount to increase conversions.
NOTE:  While the focus is on software, you certainly can sell other downloadable products. Just be sure to check out their terms of service, as there is a large list of items you cannot sell (such as "get rich quick" schemes, business investing, credit repair, gambling and many others).
One of Paddle top benefits is their sophisticated built-in functions for selling desktop software or SaaS (software as a service) subscriptions. These functions include in-app checkouts, trial versions, in-app downgrades and upgrades, post-purchase in-app activation and more. You may need to use the API to configure some of these features, but it can be done seamlessly.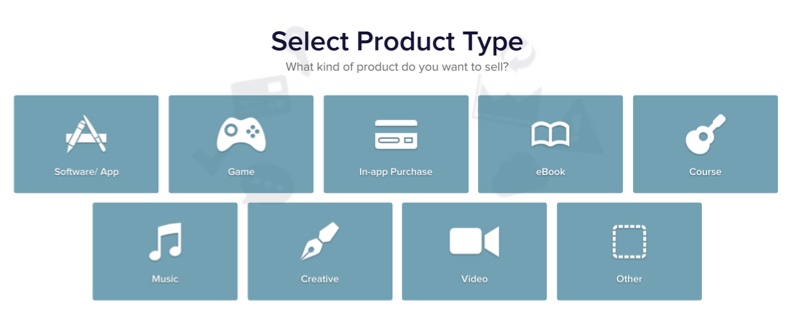 Digital Files Secure
You get the option of hosting the files yourself or letting Paddle hosting. Their file access control is fairly basic, at least compared to the more sophisticated systems such as SendOwl.
Affiliate
If you're thinking about setting up an affiliate program for your product, you'll want to check if Paddle meets your needs…
JV Profit Sharing: No.
Instant Affiliate Program Setup: Yes.
Instant Affiliate Payments:  No. The affiliate gets paid once per month.
Max commission to affiliate: There is no restriction.
Automatic Bonus Delivery:  No, your affiliates will have to deliver their own bonuses manually.

On-form payment: Yes.
You have a choice: you can embed the checkout page on your own site, or you can have Paddle host it on their domain.
Platform Integrations/Supported
Here again you have the choice: you can copy and paste the buy button into your sales page, or you can opt to send people directly to the checkout page on Paddle.
NOTE: Programming knowledge is required to create and insert the buy button code to your own site. 
Files can be hosted by Paddle or on your own server.
Getting Paid
You'll get paid once per month either by wire transfer or by PayPal. Take note that the minimum payment threshold is $50.
Support
You can reach Paddle support via their helpdesk at: https://www.paddle.com/support/welcome.
Who Can Use Paddle?
Paddle is a good choice if you're a web developer, software seller, or a SaaS (software as a service) company. There is no monthly fee, which makes the platform particularly attractive to those who are just starting out.
[su_note note_color="#99cc99″ text_color="#feffff"]Paddle is a good choice if you're a web developer, software seller, or a SaaS (software as a service) company. There is no monthly fee, which makes the platform particularly attractive to those who are just starting out. You can learn more about Paddle by visiting them online just click the button below. [su_button url="http://promotelabs.link/paddle" target="blank" style="flat" background="#ffffff" color="#14750f" size="7″ center="yes"]Learn More[/su_button][/su_note]
[su_note note_color="#169016″ text_color="#feffff"]If you want to compare Paddle up to nine other digital platforms (Clickbank, Chec, Zaxaa, SendOwl, etc.) then check out our post "10 Top Digital Platforms Reviewed"[su_button url="https://promotelabs.com/blog/top-digital-platforms/" style="flat" background="#ffffff" color="#14750f" size="7″ center="yes"]Click To Read [/su_button][/su_note]