RhinoSupport is all about saving you time, by offering you a support platform that makes it as easy as possible for your support team to provide great customer service.
Take a look at the features below to see if RhinoSupport is a good fit for you…
CREATE TICKETS
(Communication Channels)
Via email: Yes
Via web interface: Yes, via a login desk ticket submission form.
Via social channels: No
Via phone: No, but RhinoSupport said it is possible through third-party integration.
Via chat: Yes
CUSTOMER SELF-SERVICE/COMMUNITY
FAQ: Yes
Multi brand helpdesk support (FAQ/Knowledgebase separate for each product): Yes, up to five brands, depending on the plan you select.
Widget embedding for FAQ, Ticket, Chat: Yes, this is available via a traditional tab-style widget as seen below.
Here's what the embedded widget looks like: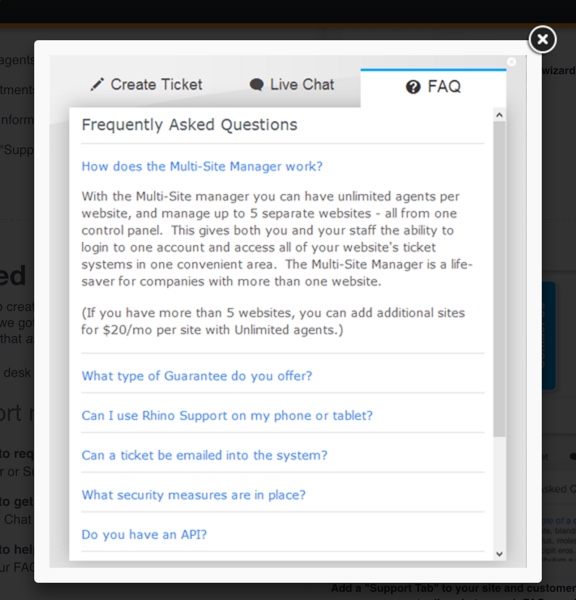 DATA FILTER/ CUSTOMER POINT ON POINT TRACKING
External support: presales questions -potential buyers: Yes.
Internal support (Ability to pass user data from inside app along with ticket to track which products customer has purchased or used to provide timely and correct support and advanced sales funnel): No
PLATFORM
Web: Yes
Mobile app: No
Voice (call center): No, it is not a built-in feature. However, this may be possible via a third-party integration, according to RhinoSupport. (We didn't test this or investigate it further.)
STAFF
Multiple agents: Yes. There is an unlimited agent plan available. Please see the pricing section later on for more information.
Private FAQ/knowledge base for internal use: No
Agent performance tracking: Yes, but it is very basic.
Private notes/ chat between agents: Yes
Agent rating/ Customer satisfaction survey: No
HELP DESK REPORTING AND ANALYTICS
Tag, tracking: Yes, basic.
Automation rules: Yes, basic.
OTHER FEATURES, USABILITY, PRICE
Remote control/access: No
Integration: No
Ease of use: If you're looking for something easy to use with no learning curve, this is it. Across our testing, we found this to be one of the easiest help desks to set up and run. The interface is very intuitive and clean.
Price: Prices run from $47 to month to $197 per month depending on the plan you select. All except the most basic plan let you have an unlimited number of agents. You can also try any plan free for 15 days.
Who can use it: This is a great option for an internet marketer, a start-up business, and any small business who does not need a sophisticated system. If you're looking for comprehensive app tracking, reporting and automation rules, then this isn't the right help desk for you. If you're looking for a straightforward help desk at a good price, then you'll want to consider RhinoSupport.
PROS:
There's a lot to like about RhinoSupport, including:
Very simple, intuitive and clean interface that's easy to use.
Very affordable. The high-end plan is $97 per month, which is a great deal for unlimited agents.
You get built in live chat at no extra cost.
You get time-saving features, such as hovering over a ticket to read the contents, and the one-click replying.
CONS:
Here are the downsides of choosing RhinoSupport:
Reporting and tracking is very limited and weak. If you depend on these options for staffing and training decisions, you'll want to look elsewhere.
RhinoSupport doesn't offer you a live chat support option. When we contacted them, it took days to get a reply. However, the system is stable, so we only contacted them a few times over the years we used this platform.
If you'd like to try Rhino Support's free trial or just learn more about Rhino Support's simplistic, efficient and easy to use help desk system, check them out by clicking the button below.
If you want to compare more help desk services up to Rhino Support then check out our post "Help Desk Software Reviews & Comparisons"
Latest posts by Nam Ybarra
(see all)