Amazon Payments, which officially launched in 2007, is a wholly owned subsidiary of Amazon.com. Their focus is on giving merchants' customers the same payment experience enjoyed by Amazon customers.
Let's take a look at their features to see if it's a good fit for your business…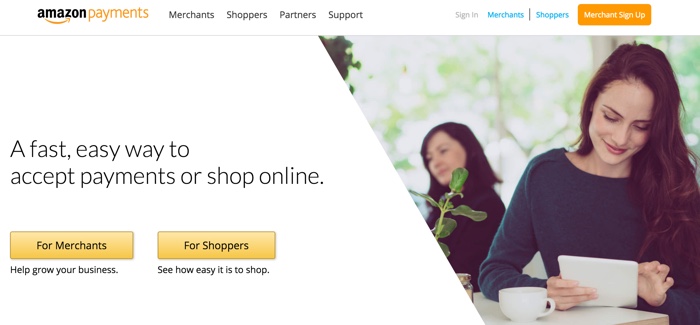 ALL-IN-ONE PAYMENT SERVICE PROVIDER?
Yes
Amazon Payments is a payment service that allows Amazon.com customers to pay for purchases on other websites using their Amazon.com account. That means all your customers have to do is log into their Amazon accounts to pay you – they don't need to enter their payment information or credit card numbers.
The benefit is that you get to use Amazon's trusted brand to process payments – and it's easy for Amazon customers. The downside, of course, is that not everyone has an Amazon account.
FEES
Here's a look at Amazon Payments's fees: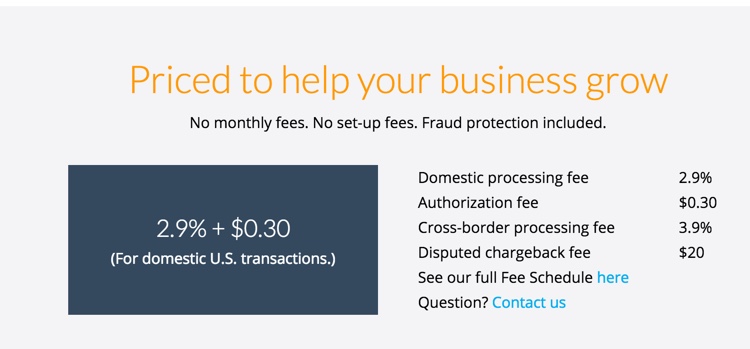 Monthly fee: None.
Debit and credit rate: 2.9% plus 30 cents per transaction.
Non-US payment for US sellers: 3.9% plus 30 cents per transaction.
Early termination fee: None.
PCI compliance fee: None.
Equipment lease term: None.
Chargeback fee: $20.
Note: Funds are held until 14 days after the first transaction. After that, it's released daily to you, but it could take three to five business days to reach your bank account.
SUPPORTED COUNTRIES
Amazon Payments offers services to merchants in four countries, including the United States, the United Kingdom, Germany, and Luxembourg.
NOTE: Sellers in the United States must provide social security information as well as their bank account information during the approval process.
MAJOR CREDIT CARDS SUPPORTED
All major credit cards are accepted, Visa™, MasterCard™, Discover™, American Express™, Diner's Club International™, JDB™, PayPal™ and the Amazon (Prime) store card.
NOTE: All credit cards used for billing must have a United States billing address.
RECURRING BILLING
Yes, this feature is available, and there is no additional fee.
ON-SITE CHECKOUT FORM
Yes, it is possible to integrate the Amazon payment form into your site. However, this does require programming knowledge, and you will need an SSL certificate depending on your chosen integration method.
SECURITY AND PCI COMPLIANCE
Yes.
If you're looking for a secure option, Amazon Payments is a good choice. That's because the customer's sensitive card data is stores on Amazon's secure server. The security and fraud protection at Amazon is considered more advanced any other provider. This takes a lot of pressure and liability off of you the merchant. That means you can spend more time closing sales and less time worrying about fraud.
Can you accept phone orders or manually enter your customers' payment info?
No, you cannot manually key in your customer's information.
PLATFORM INTEGRATIONS
Amazon is household name that's trusted around the country. That's why more and more shopping carts and platforms are integrating with Amazon Payments, including:
Woo Commerce
Open Cart
Miva
And more.
MOBILE PAYMENTS
Can you accept Amazon Payments from your customers in person using your mobile phone? No, manual key-in is not supported.
CREDIT CARD DATA PORTABILITY
Can you export data if you decide to leave the platform? No.
Can you import card numbers from your existing provider to this provider? No.
Who Can Use This Payment Gateway?
This is a good option for many small to mid-size businesses. In particular, those businesses who are still fairly new in their markets may want to use Amazon Payments, simply because using a trusted name and brand like Amazon is one of the best ways to boost conversions.
However, this payment option isn't available to everyone. It's only supported in a handful of countries, AND there is a strict approval process that each merchant must navigate.
If you do get approved and you're a large volume merchant, you can negotiate for a lower fee.
Another benefit of Amazon Payments is that you can accept the Amazon Prime store card, which provides special promotional financing with a purchase of $149 or more. This gives your customers a way to finance their purchases, while still allows you to get paid upfront. Win-win!
What Type Of Support Is Offered?
You can reach support via both the phone and a help desk. In addition, Amazon Payments provides extensive user documentation online, so you can find the answer you need without having to contact support.
What Type of Reputation Does The Provider Have In The Market?
As mentioned, Amazon is a trusted household brand. The Amazon company as a whole has a Better Business Bureau Business Review with an A+ rating. However, Amazon payments doesn't have a separate business profile with the BBB, and few (if any) of the 8000+ consumer complaints on the Amazon.com profile have anything do with the Amazon Payments service.
However, you can see live case studies posted by merchants who're enjoying positive results after implementing Amazon Payments on their sites. Check them out at here.
If you would like to see if Amazon Payments is giving merchants' customers the same payment experience enjoyed by Amazon customers just click the button below.
If you want to compare more payment processors up to Amazon Payments then check out our post "Payment Gateway Processor Reviews and Comparisons"
Latest posts by Nam Ybarra
(see all)