The Chec digital platform handles ecommerce and is modular and extendable, which means that it adapts to each merchant and can be integrated anywhere. Let's take a look to see if it's the right platform for you…
FEES
Pricing for Chec depends on whether you've signed up for a Standard, Plus or Pro account. While Standard doesn't have any monthly fees, you pay 3% per transaction. For Plus, you pay $29 per month for the service, and 1% per transaction. If you opt for a Pro account, you pay $129 per month for the service plus 0.5% per transaction.
None of these fees include payment gateway fees.
PAYMENT METHODS
With Chec, you can choose from among five popular payment methods, including:
Stripe
PayPal
Paymill
Dwolla
Chec also offers support for over 24 major currencies.
KEY FEATURES
Now let's take a look to see if Chec has the key features you need to run your business…
One Time Payments:  Yes
Recurring Payments/Trial: No, so Chec is not a good option for membership sites, SaaS, or similar recurring payment products and services.
Dime Sale:  No, you cannot run a sale where the price increases automatically.
Coupon: Yes, you can distribute sale coupons to boost your conversions.
Sales Funnel: No, you cannot offer upsells and downsells on the order form.
List Building: No, you're not able to automatically add customers to a mailing list.
Hide products from the marketplace but still can accept sales: No, but that's because Chec doesn't have a marketplace.
Custom IPN to integrate with external/other scripts:  Yes
Reporting: Yes, you can track your sales and conversions.
Unique Features
Chec allows you to delivers products instantly right on the checkout page after the customer makes a payment. This improves customer satisfaction, as there are no additional hoops to jump through once payment is complete.
Digital Files Security
Files are hosted on Chec's servers, and it only delivers products in a downloadable format. It does allow for a large capacity, though, as each file can be up to 4 gigabytes. That means you can easily sell downloadable videos and graphics-heavy content.
Note: It doesn't have the sophisticated file access control built in as you find with a service such as SendOwl. (More about SendOwl later…)
Affiliate:
Chec does not cater to those who want to set up an affiliate program. See more below…
JV Profit Sharing: No, you cannot automatically share some portion of your profits with your partners.
Instant Affiliate Program Setup: No
Instant Affiliate Payments:  No
Automatic Bonus Delivery:  No, which means your affiliates cannot offer a bonus that's automatically delivered to their customers once payment is complete.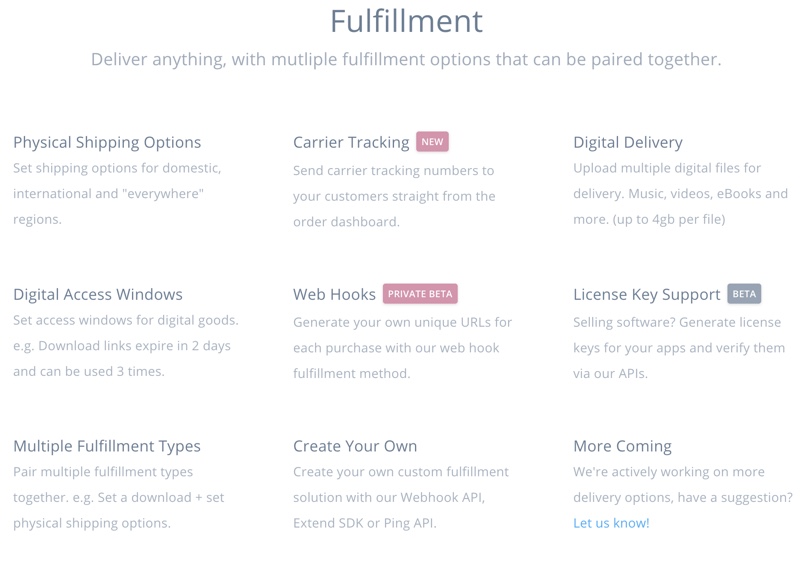 On-form payment: Yes
You get a choice. You can have Chec host your checkout page, or you can embed your checkout page within your own site.  The forms are simple and user-friendly.
PLATFORM INTEGRATIONS/SUPPORTED
Set up is very easy, as all you have to do is copy and paste your Chec buy button directly into your sales page, or you can opt to send people directly to your Chec-hosted checkout page.
GETTING PAID
The way you get paid depends on how you're accepting payments from your customers. If you made your sales through PayPal, then payments will go directly into your PayPal account. Any payments processed through Stripe will be transferred into the bank account you have connected to your Stripe account.
The first payout takes anywhere from seven to ten days due to security checks and fraud prevention. After that, you can expect to get payouts on a two-day rolling payout cycle if you are based in the United States or Australia.  Merchants who do not live in the United States or Australia will receive payouts every seven days.
SUPPORT
You can access Chec support via their Help Desk or through their Chat feature.
WHO CAN USE CHEC?
Chec is a good option if you're looking to sell something in a simple way, such as a product with a one-time payment. It's also a good option if installing a robust affiliate program isn't a top priority for you.
Simply put, doesn't have a lots of built in features, which is what makes it quick and easy to use. This also keeps the pricing relatively low.
One place where Chec stands out from the competition is that they instantly deliver downloadable products on the checkout page right after the customer finishes making the payment. The customer doesn't need to jump through hoops, create an account, wait for an email, or go through any other nonsense to get access to the product. This is a benefit in helping ensure you have satisfied customers who have good ordering experience.
Chec is a good option if you're looking to sell something in a simple way, such as a product with a one-time payment. It's also a good option if installing a robust affiliate program isn't a top priority for you…. To learn more about Chec, visit them online by clicking the button below.
If you want to compare Chec up to nine other digital platforms (Clickbank, Zaxaa, SendOwl, etc.) then check out our post "10 Top Digital Platforms Reviewed"
Latest posts by Nam Ybarra
(see all)