E-Junkie started out in 2003 as a script written by one person for his personal use. In time, others wanted to use the script, and over time it was developed into the robust platform that exists today.– E-Junkie Review
Let's take a closer look to see if E-Junkie is a good fit for your business…
Fees
E-Junkie has no set up fee and no per-transaction fee. Instead, you pay a flat monthly rate that's determined by how many products you're selling and how much storage space you need. You can start at the level you need, and it's easy to upgrade as your business grows.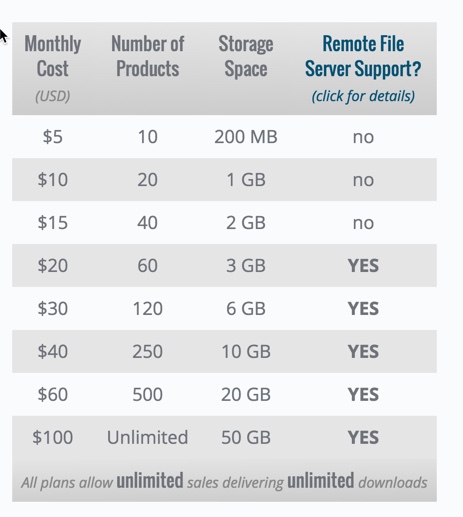 Take note that you can start for as little as $5 per month. As always, your payment gateway fees are not included in these prices, and those fees will depend on which payment method you choose.
Payment Methods
You can choose from among several popular payment methods, including:[su_list icon="icon: chevron-circle-right" icon_color="#197d23″]
PayPal
2Checkout
AuthorizeNet
Braintree
TrialPay
Clickbank[/su_list]
Key Features
Does E-Junkie have the features you need to fit your business model? Take a look…
One-Time Payments:  Yes.
Recurring Payments: No, which makes E-Junkie unsuitable for membership sites and other recurring offers.
Trial Payments: No.
Dime Sale:  No.
Coupon: Yes, you can offer coupons to your prospects and customers.
Sales Funnel: No, you cannot offer upsells and downsells.
List Building: Yes, E-Junkie gives you the option to automatically add your customers to a mailing list.
Hide Products from the marketplace but still can accept sales: No, since E-Junkie doesn't have a marketplace.
Custom IPN to integrate with external/other scripts:  Yes.
Reporting: Yes, but it's very basic reporting.
Here are some of the other features you'll find on the E-Junkie platform: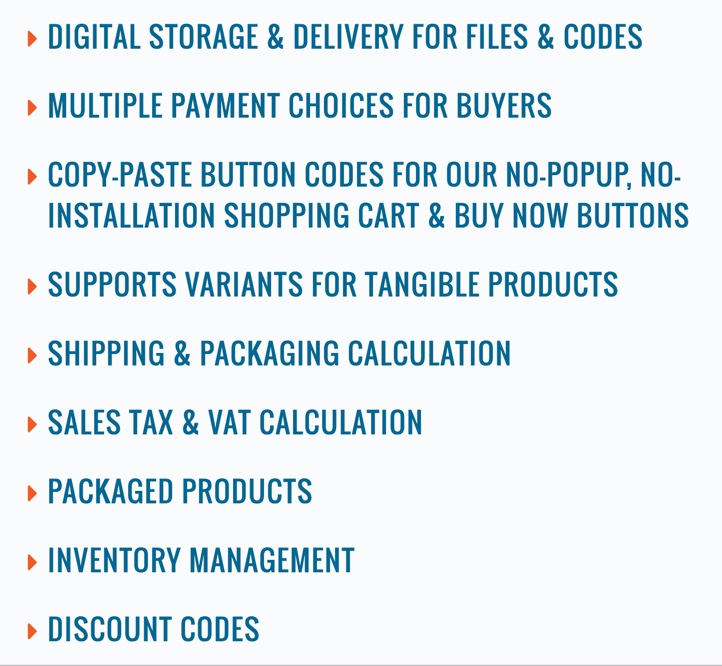 Digital Files Security
The files are hosed on E-Junkie's server. With certain plans, you can opt to have the files hosted on AS3.
Take note that E-Junkie only delivers products in a downloadable format. So, for example, you can't offer streaming video. This service also doesn't have a sophisticated file access control built in like platforms such as SendOwl.
Affiliate
Here's what you can expect if you plan to run an affiliate program through E-Junkie…
JV Profit Sharing: No.
Instant Affiliate Program Setup: Yes.
Instant Affiliate Payments:  No. Take note that the you (the vendor) needs to keep track and handle affiliate payments yourself.
Automatic Bonus Delivery:  No.  (This feature is for affiliates who want to offer their own bonuses, so in this case they'll need to offer them manually.)
On-form payment: Yes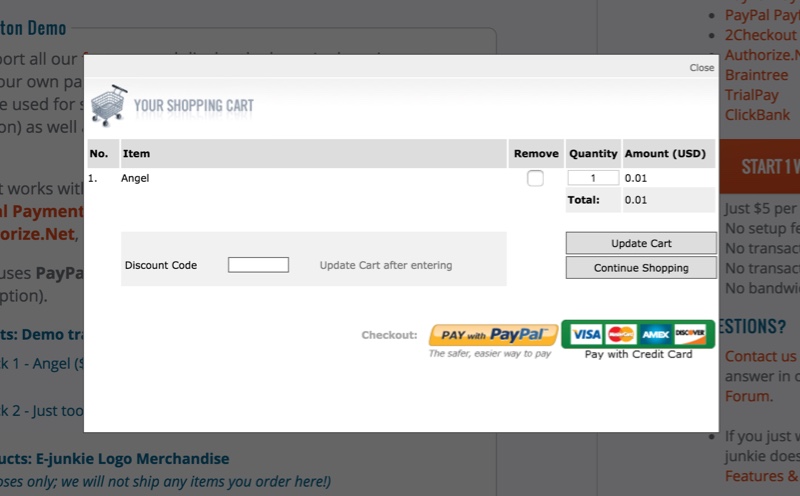 Your checkout page can be embedded on your own site, which is good in terms of continuity and branding. Here's an example:
Platform Integrations/Supported
Setting up your sales page is as simple as copying and pasting your E-Junkie buy button into your web page.
Getting Paid
This depends entirely on the payment gateway you choose. For example, if you choose a platform such as PayPal, then you can receive payments instantly.
Support
E-Junkie offers support through a helpdesk: https://www.e-junkie.com/ej/contact.htm/
Who Can Use E-Junkie?
E-Junkie has been around for quite some time, and it used to be quite popular when there weren't that many similar services available. That's why the people who primarily use E-Junkie today are clients who started with them several years ago.
There are benefits to the platform, such as its stable, low starter price and good customer support.
However, it does have its downsides, such as only offering one-off payments. The biggest downside is that the entire interface from the backend to the front end looks very dated. It seems they haven't updated it for years.
[su_note note_color="#99cc99″ text_color="#feffff"]There are benefits to E-Junkie, such as its stable, low starter price and good customer support. You can learn more about E-Junkie by visiting them online by clicking the button below. [su_button url="http://promotelabs.link/e-junkie" target="blank" style="flat" background="#ffffff" color="#14750f" size="7″ center="yes"]Learn More[/su_button][/su_note]
[su_note note_color="#169016″ text_color="#feffff"]If you want to compare E-Junkie up to nine other digital platforms (Clickbank, Zaxaa, SendOwl, etc.) then check out our post "10 Top Digital Platforms Reviewed"[su_button url="https://promotelabs.com/blog/top-digital-platforms/" style="flat" background="#ffffff" color="#14750f" size="7″ center="yes"]Click To Read [/su_button][/su_note]