EasyDigitalDownloads (EDD) is a bit different than some of the other platforms we're reviewing here, primarily because EDD is a WordPress plugin. That means that you host the platform on your own domain, through the WordPress content management system.
Read this EasyDigitalDownloads review to find out how it works and if this platform is right for you…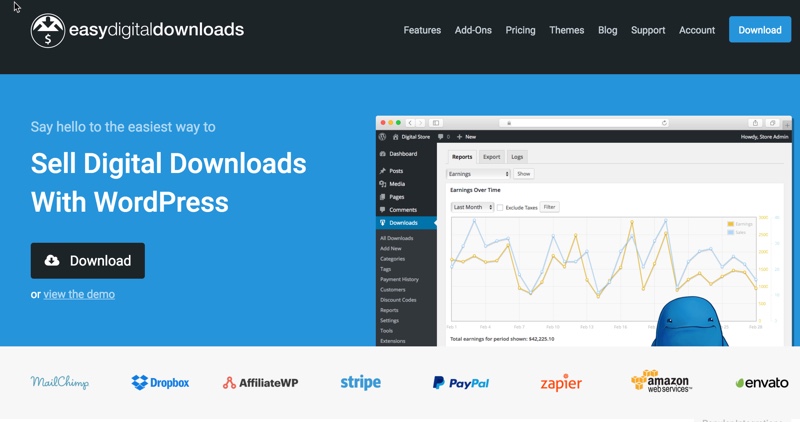 Fees
EasyDigitalDownloads is a WordPress plugin, which is free to download. However, in order for you to fully put this plugin to use, you'll need to add in various extensions and add ons, and the cost for each of these components varies.  As such, that means that you'll need to be very clear about your own needs before you start comparing pricing among these various platforms.
At the time of this writing, a core bundle of the following extensions/add-ons costs $799 per year for unlimited sites.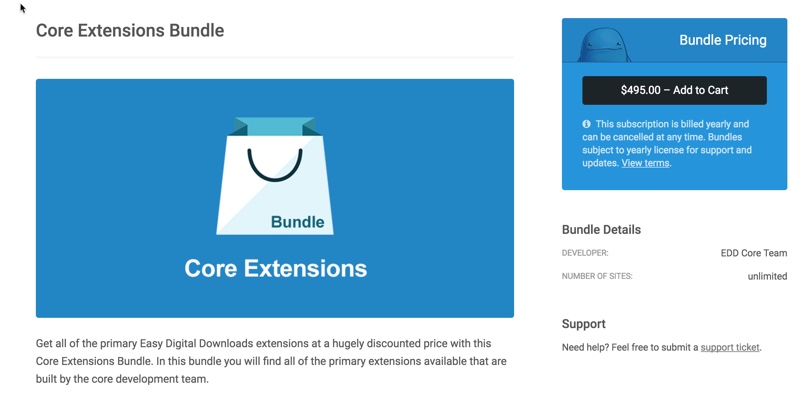 As you can see, these core extensions include items such as coupon distribution, recurring payments, upsells and cross-sells, commissions and more.
Please note that your payment gateway fees are you not included in this pricing.
Payment Methods
You can accept a wide variety of payment methods through EasyDigitalDownloads, provided you have the correct paid extension. These methods include but are not limited to the most popular payment processors such as:
Stripe
PayPal
2Checkout
AuthorizeNet
Braintree
And more.
Key Features
As mentioned, most features require an add-on, and the cost varies among these extensions and add-ons. However, EasyDigitalDownloads has a huge library of over 100+ extensions and add-ons, so you're sure to build a platform that meets your needs.
One Time Payments: Yes.
Recurring Payments: Yes, so you can sell items such as membership sites and SaaS (software as a service).
 Trial Payments: Yes, you can offer free trials.
Dime Sale: No
Coupon: Yes
Sales Funnel: Yes, you can offer upsells, downsells and cross-sells.
List Building: Yes, you can automatically add buyers to your autoresponder.
Hide Products from the marketplace but still can accept sales: Yes, as this is a self-hosted solution, so there is no central marketplace. However, there is an extension that lets you create your own marketplace on your site.
 Custom IPN to integrate with external/other scripts:  Yes
Reporting: Yes
Unique Features
As mentioned, EasyDigitalDownloads is a WordPress plugin, which means you need to install WordPress on your site. What's more, you're completely responsible for configuring everything on your own. This is a disadvantage if you're not very technical and/or don't care to hire a technical team. It's an advantage if you like to retain complete control over everything.
Digital Files Secure
Since this is a self-hosted solution, the files are all hosted on your own server or Amazon S3 (which is a paid add-on). That means the security of your content is entirely up to you.
Affiliate
Take note that affiliate-related tasks (such as tracking commissions) is done via a paid extension.
JV Profit Sharing: No, this is not available.
Instant Affiliate Program Setup: Yes (via a paid extension).
Instant Affiliate Payments:  No, this is not available.
 Max commission to affiliate: There are no restrictions.
Automatic Bonus Delivery:  No, your affiliates must deliver their bonuses manually.
On-Form Payment: Yes
Since this is a self-hosted solution, your checkout page is hosted and visible on your own website.  This gives you a lot of flexibility and control. Here's an example of a customized checkout page: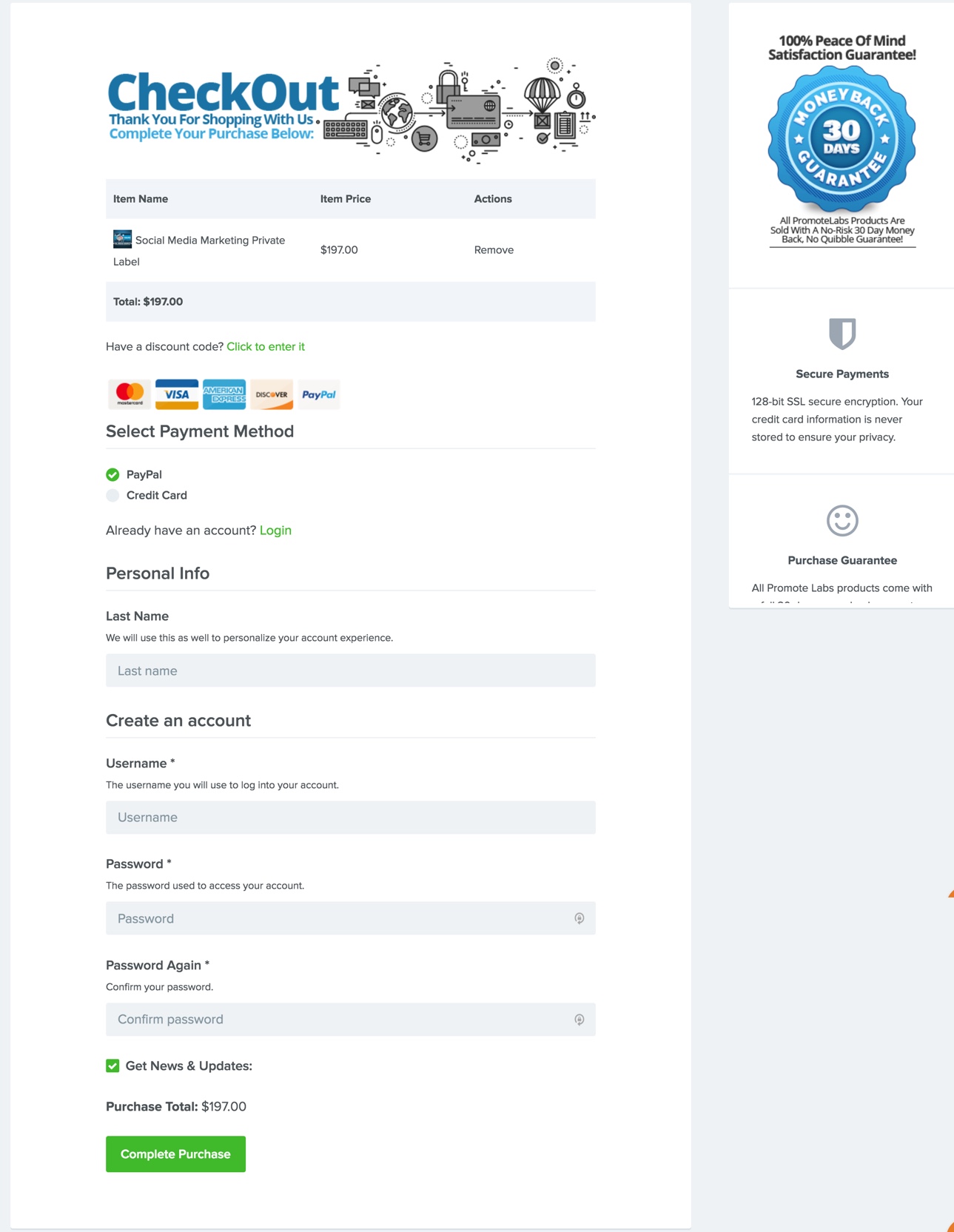 Platform Integrations/Supported
You need to have your own hosting and install WordPress to use EasyDigitalDownloads. Since it is hosted on your own server, you would also need to take care of server security, staying PCI compliant (AKA credit card security), page speed, database management, support for your end users and similar tasks. This can be fairly overwhelming if you're new to business and/or if you're a non-technical user.
Getting Paid
This depends on entirely on the payment gateway that you choose. You can secure instant payments if you select a solution such as PayPal.
Support
You can reach EasyDigitalDownloads' support staff through their helpdesk:
https://easydigitaldownloads.com/support/.
Who can use EDD?
EasyDigitalDownloads is a good choice for those who don't want to use a hosted platform such as SendOwl, Gumroad, or similar options. And one of the benefits of hosting the platform yourself is that you don't need to pay a per-transaction fee or a monthly fee to a third-party digital platforms provider. (Naturally, you still have to pay transaction fees to your payment gateway provider.)
We use EasyDigitalDownloads ourselves, and it meets our needs for selling some of our products. However, it can be slow and sluggish sometimes due to so having several WordPress plugins activated to run the website.
If you're not the technical sort, keep in mind that securing the site ensuring it runs smoothly is not a small task. This includes staying PCI compliant, keeping your page speed fast, offering support and similar tasks, all of which are your responsibility. You'll also pay hosting fees and extension/add-on fees to run EDD on your website.
Point is, you'll need to consider all of these important factors when you're choosing this platform over the others mentioned here in this review. It's a good choice for those who want a lot of control, but you'll just end up frustrated if you're not technically minded (and/or if you don't hire a technical team to help you out).
Those factors need to be considered when you are choosing this platform versus the others.
EasyDigitalDownloads is a good choice for those who don't want to use a hosted platform – To learn more about EasyDigitalDownloads, visit them online by clicking the button below.
If you want to compare EasyDigitalDownloads up to nine other digital platforms (JVZoo, Zaxaa, SendOwl, etc.) then check out our post "10 Top Digital Platforms Reviewed"
Latest posts by Nam Ybarra
(see all)