FreshDesk boasts over 80,000 customers around the world. But is it a good choice for you and your business?
Take a look and decide for yourself…


Let's start with the key features…
CREATE TICKETS
(Communication Channels)
Via email: Yes.
Via web interface: Yes.
Via social channels: Yes
Via phone: Yes (but it costs extra).
Via chat: Yes.
CUSTOMER SELF-SERVICE/COMMUNITY
FAQ: Yes.
Multi brand helpdesk support (FAQ/Knowledgebase separate for each product): Yes.
Widget embedding for FAQ, Ticket, Chat: Yes, via the Beacon Feedback widget, as seen below.
The advantage of using this widget is that you can embed your help desk features anywhere on your site. This means your prospect can get the help they need without ever leaving the page they're on.
For example, maybe they're sitting on your sales page and they have pre-sale questions. If they leave your sales page in search of a help desk or contact button, they may get distracted. You might lose them. They'll leave the page, never to be seen again.
But embed your chat window right into your sales page, and you'll boost conversions because you can close the sale without your prospects having to leave the sales page.
DATA FILTER/ CUSTOMER POINT ON POINT TRACKING
External support: presales questions -potential buyers:  Yes.
Internal support (Ability to pass user data from inside app along with ticket to track which products customer has purchased. This is used to provide timely and correct support and advanced sales funnel):   Yes, this is available, but we didn't test it to see how well it works.
PLATFORM
Web: Yes
Mobile app: Yes
Voice (call center): Yes
STAFF
Multiple agents: Yes. There is a cost per agent that runs from $15 for up to three agents for the most basic plan, to $70 per agent for the highest-tier plan. See the pricing section below for more information.
Private FAQ/knowledge base for internal use: Yes. This is a very useful feature to help train your staff.
Agent performance tracking: Yes. Another useful feature, especially if you have several agents to monitor.
Private notes/ chat between agents: Yes. This is a good feature as it helps your agents approach certain issues in the same way. This gives your customers and prospects a better customer-service experience.
Agent rating/ Customer satisfaction survey: Yes. Here's another good way to track how well your agents are doing. This can help pinpoint places where you need to provide more training. It also helps boost overall staff performance, as agents who know they may be rated are likely to do a great job to get those high ratings.
HELP DESK REPORTING AND ANALYTICS
Tag, tracking: Yes
Automation rules: Yes
Reporting: Yes.
You can get a good sense of where your tickets are coming from, if they're getting resolved, and how in-depth the help is with FreshDesk's reporting. You'll also be able to track other important metrics, such as when most of your tickets are coming in (which will help you make staffing decisions).
FreshDesk also lets you look at what kind of tickets may be causing problems for your agents, customers and prospects. For example, if you have one type of question that comes in repeatedly, then you may want to expand your knowledge base or place the answer in multiple locations on your site.
You can also look at your agents and how well they're performing. For example, you'll see which agents handle the high priority tickets, and which of them get good reviews from prospects. In turn, this helps you make decisions about training and promoting.
You can even compare groups of agents, such as looking at how your pre-sale agents are doing versus your post-sale agents. And of course you can see how long it takes for your agents to respond to queries, which will again help you with staffing or training decisions.
OTHER FEATURES, USABILITY, PRICE
Remote control (to manage, access, and control a customer's computer from a remote point, giving remote diagnosis, and resolving any issue or complaint with little customer involvement): Yes, this is available through the LogMeIn Rescue App.
Note that the technician must have a Windows platform, but the end user can have any platform. Also take note the app sends information back to the help desk, such as notes about total time spent logged in.
Integration: Yes. FreshDesk integrates with over 50 popular apps and services, including Constant Contact, DropBox, Facebook, GitHub, Google Translate, Magento, InfusionSoft and much more.
Ease of use: FreshDesk has a neat, easy-to-use interface.
Check it out:
Price: Ranges from $15 to $70 per month per agent, depending on the plan you select. Do note that you can take advantage of a free trial to see if FreshDesk is right for your business.
Here are the five different plans and pricing levels: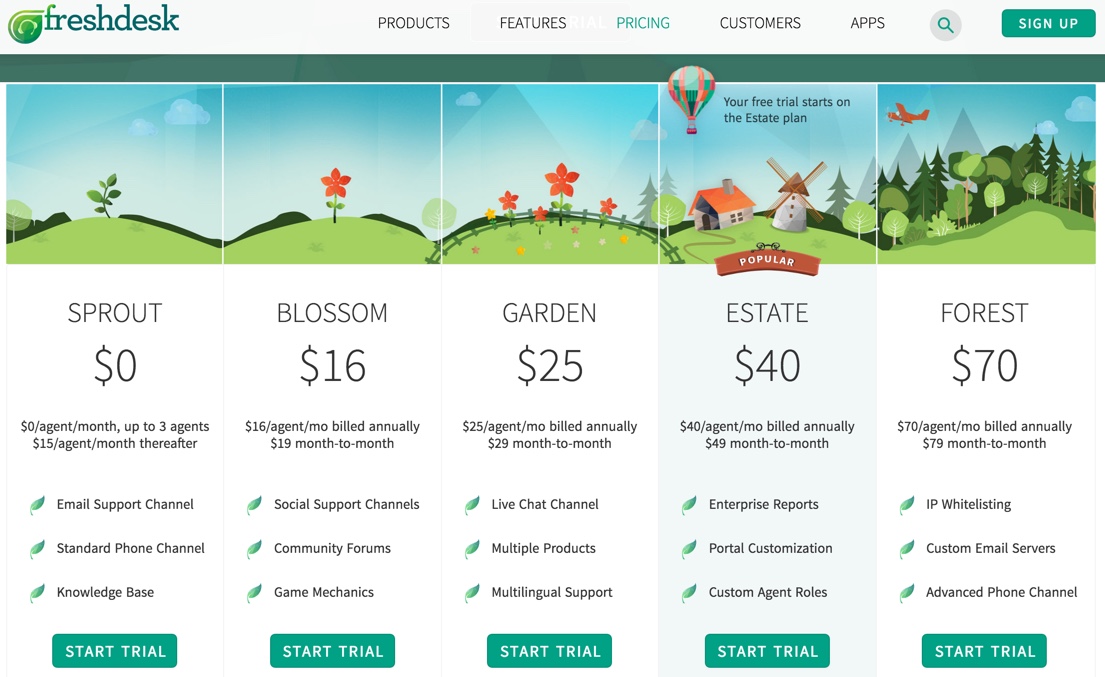 Who can use it: Because of FreshDesk's powerful features and multi-tiered pricing, it's a great option for any small, medium or large business.
PROS:
We really liked this help desk for the following reasons:
Loaded with features. This help desk has all the bells and whistles, so you're sure to find the features you need to suit your business.
Built-in forum. Another great feature, because it can cut down on support requests. That's because users can search the forum to see if their issue has already been addresses.
Built-in live chat. And since you can embed this anywhere on your site, your prospects and customers never need to click away from a page to get the help they need.
Built-in phone support. This does cost extra, but it's a very nice feature to have available.
Hover feature. When you're looking at all the tickets in your system, you can get the details of a particular ticket simply by hovering over the ticket. This is a nice touch and a great time-saving feature.
CONS:
FreshDesk could use some improvements, here are the downsides:
Not very user-friendly for end users. That's because your prospects and customers are required to log in to view tickets.
Boring frontend interface. Obviously this isn't a deal breaker, but FreshDesk could use a fresh design and makeover to give it a more dynamic and polished look.
Do you want to check it out for yourself? If you'd like to learn more about FreshDesk's user interface, robust ticketing, or advanced gamification… check them out with their free trial by clicking the button below.
If you want to compare more Help desk services up to FreshDesk then check out our post "Help Desk Software Reviews & Comparisons"
Latest posts by Nam Ybarra
(see all)