The autoresponder GetResponse entered the email service provider scene relatively early. Its founder started working on the software in 1997, and it officially hit the market in 1999. Today, it's still a major player in the autoresponder market.Here's what you need to know about it…
PRICE
While Get Response is in the middle of the pack overall when it comes to email service provider pricing, it's on the low to mid end of the pricing range among the autoresponders we've reviewed here.
Pricing starts at $15 for basic accounts and $49 for Pro accounts.
Here's the current breakdown for GetResponse cost: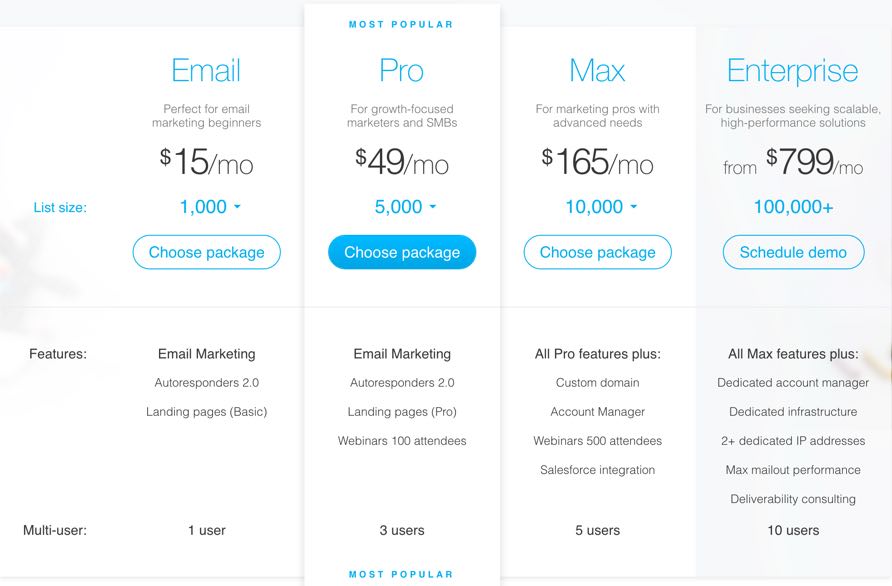 [su_note note_color="#169016″ text_color="#feffff"]Just to let you know… There is a free trial available for 30 days that you can use to take the autoresponder GetResponse for a spin around the block.
[su_button url="http://promotelabs.link/GetResponse" target="blank" style="flat" background="#ffffff" color="#14750f" size="7″ center="yes"]Check Out the Free Trial[/su_button]
[/su_note]
CORE FEATURES:
Most of the following core features are available in both the basic and Pro accounts, unless otherwise noted.
Take a look:
Broadcast: Yes
Schedule/drip sequence: Yes
Newsletter templates: Yes.
In fact, the GetResponse autoresponder has hundreds of newsletter templates that you can use to create a polished, professional image each time you send out an email.
Oh Yes, They Got Newsletter Templates: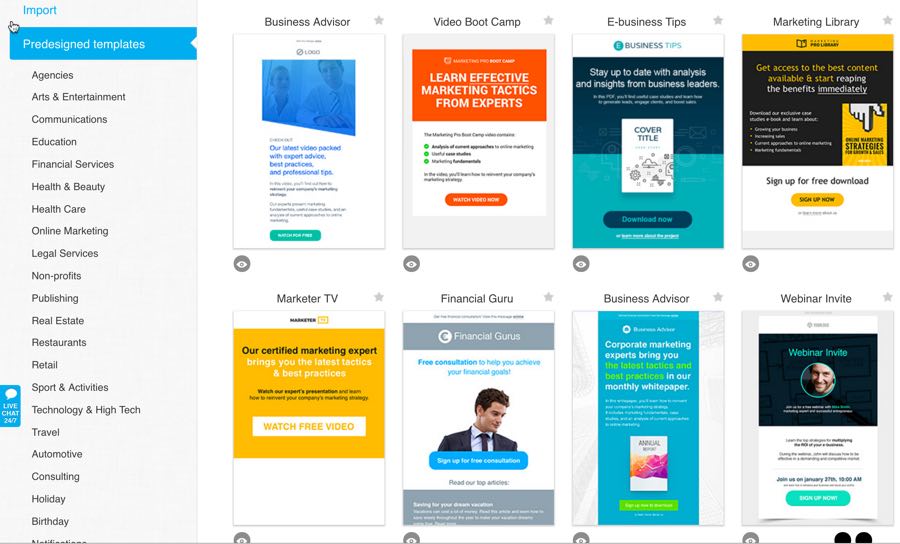 Sign-Up Forms – Oh Yes:
If you couldn't code your way out of a paper bag, no problem You don't need to know any coding, as these templates are all "point and click" easy to use.
And what if you're a pro designer? Also not a problem. GetResponse also offers you the freedom to design your own form from scratch using their HTML editor.
No matter which option you choose, you're in complete control.
Sign up form output:
GetResponse gives you multiple options for your form output, including HTML, Javascript, and hosted URL.
Sign-up form templates: Yes. (Make that a huge yes!)
GetResponse is among the best in its class when it comes to sign-up form templates. Most email service providers give you the bare minimum, such as a dozen or so templates from which to choose. Big whoop—not very impressive.
GetResponse is different because they offer over 500 sign-up form templates that are designed for many different kinds of niches. What's more, they even offer different kinds of sign-up form templates, such templates for:
Newsletter opt-in.
Event registrations.
Feedback forms.
Seasonal forms.
GetResponse also has a unique feature called "listbuilder apps," which we didn't find available through other email service providers. These apps let you create different types of sign-up forms, such as exit pop ups, scroll forms, shake boxes, and more.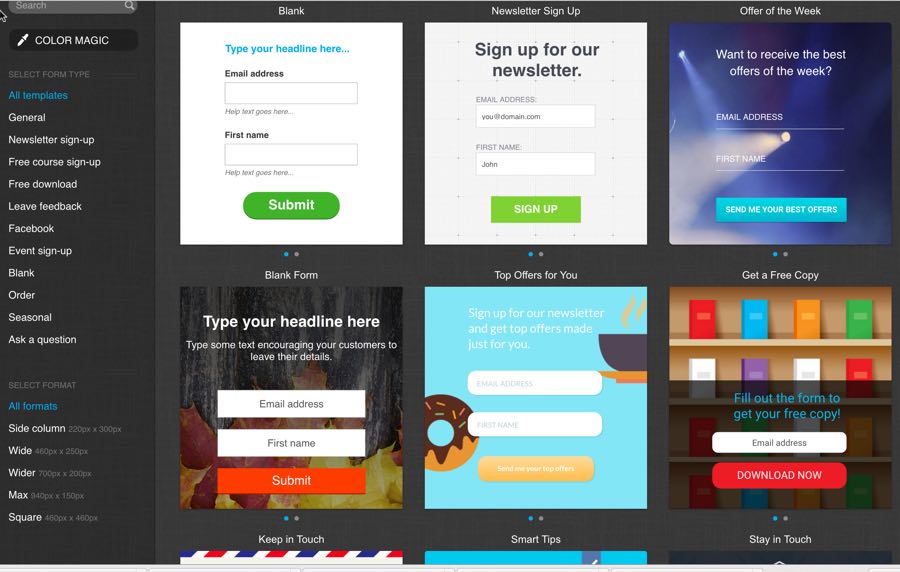 All of this means that you can get your form up and ready to go in just minutes, even if you don't know anything about design or coding.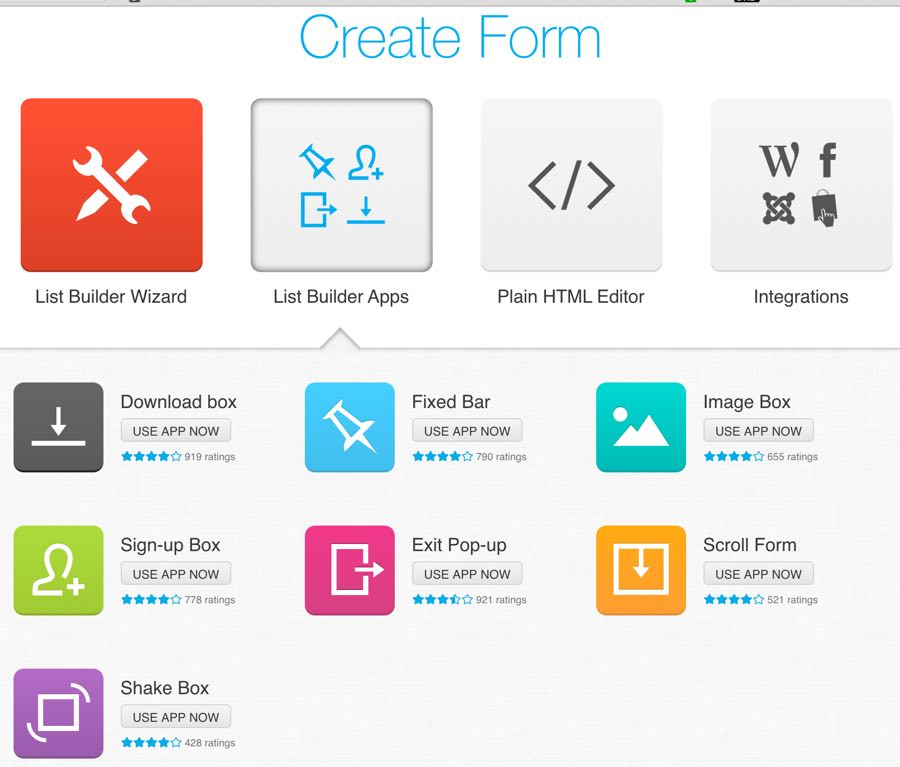 Did You Say… Landing Page Templates:
Landing page? Yes. GetResponse gives you one landing page with a basic account, or unlimited pages with a pro account. Most email service providers don't even offer this feature, much less offering unlimited pages.
Landing page templates? Yes. Another big yes!
You'll get access to hundreds of high-quality landing page templates.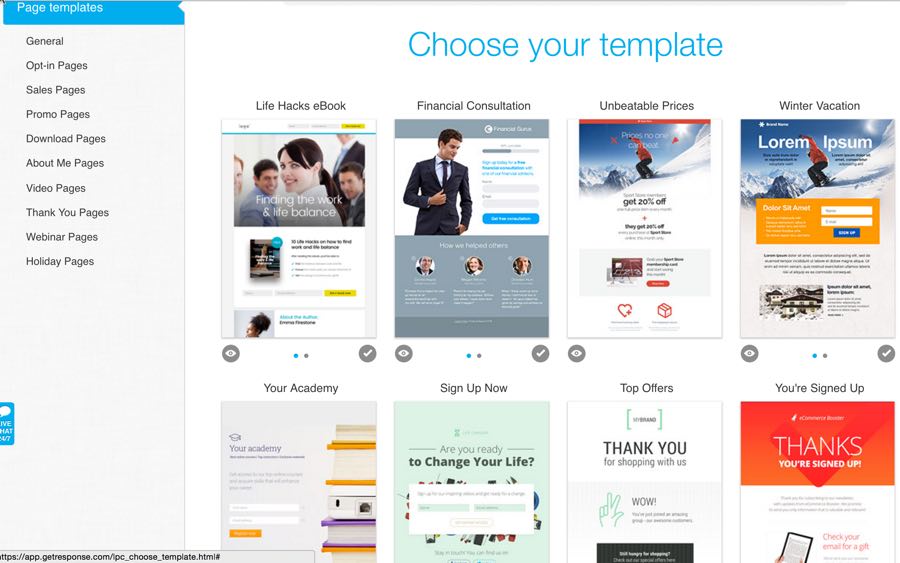 As you can see, even this small sample above offers landing pages for a variety of uses and niches. Once again, you don't need to know anything about coding or design. If you can click a mouse, you can get a professional landing page courtesy of GetResponse.
Confirmation email sent regardless of double opt-in or single opt-in? Yes.
 API available? Yes.
Blog broadcast (RSS to email):  Yes.
Import contacts without asking them to verify email again? Yes.
This means you'll retain your list if you decide to transfer from another email service provider to Get Response.
Export: Yes.
You can transfer to your GetResponse list to another provider.
Platform:
GetResponse works well on a variety of platforms, including both web and mobile platforms (IOS, Android, iPad).
ADVANCED AUTOMATION FEATURES:
So what all do you need to automate your email marketing efforts? Below you'll find some of GetResponse's advanced features, as well as places where this platform is lacking…
 List Segmentation: Yes
The autoresponder GetResponse lets you segment and mail to your list using a variety of conditions, including:
Location
When they joined the list
Whether they're still receiving the initial autoresponder sequence
How they joined your list
The last time they opened one of your emails
The last time they clicked on a link in one of your emails
According to some custom fields they completed when they joined your list.
And more.
For example, perhaps you collect extra information during subscription sign-up, such as the person's gender. You can then narrowly target your email, such as sending out an email to all females who live in the United States who have completed the initial autoresponder sequence.
AUTOMATION RULES:  YES
GetResponse automation lets you create "If-Then" rules. For example, perhaps you collect your subscriber's birthdate information. You can then create a rule such as, "If it is a subscriber's birthday, then send them this email that gives them a special discount coupon code."
Tagging: No
Split Testing:
Does GetResponse Split Test: Yes
GetResponse has built-in tools to test the following components of your campaign:
Subject line
From field
Content
Time of day
Day of week
You can choose how long to run your test, you can tell GetResponse how important a particular factor or goal is to you, and then you can do A/B split testing, click-throughs, and even Google Analytics.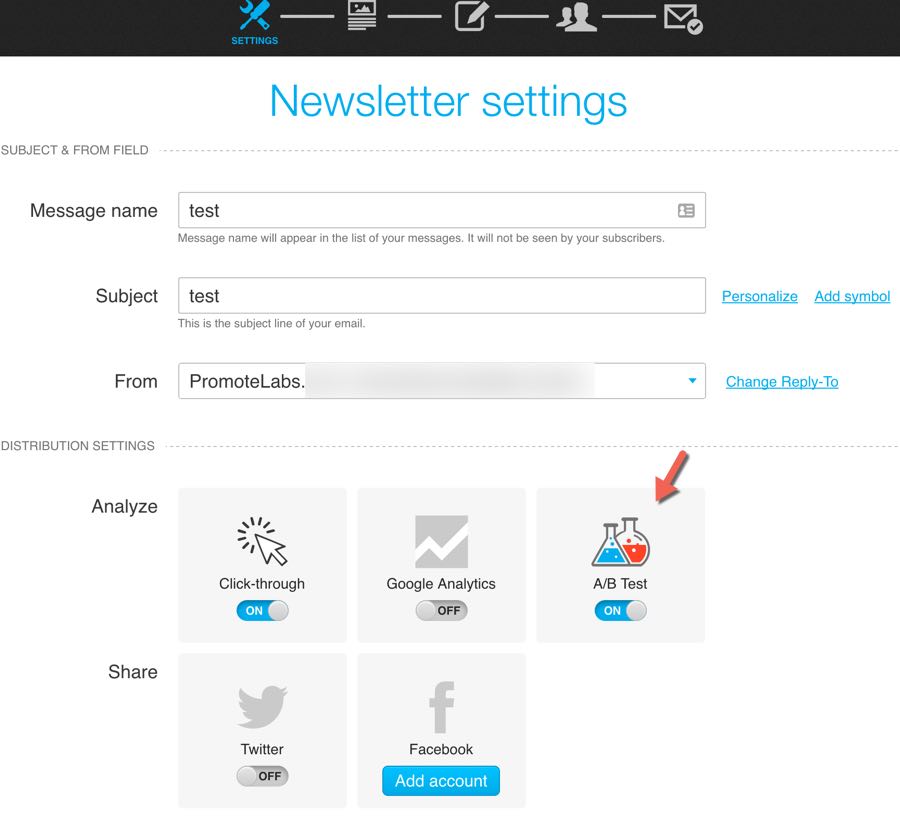 You can then log into your dashboard to check metrics such as open rates and clicks.
GetResponse lets you further automate things by letting you choose whether to send the highest-responding message out automatically to the rest of the list.
SMS/Text Messaging: No
Visual Campaign Building Tools: No
Lead Scoring: No
CRM – Yes! It integrates with Salesforce, ZohoCRM, SugarCRM
INTEGRATION WITH 3RD PARTY APPS:
GetResponse integrates with over 100 apps, including the most popular applications such as Zapier, Shopify, PayPal, ClickBank, Amazon payments and many more.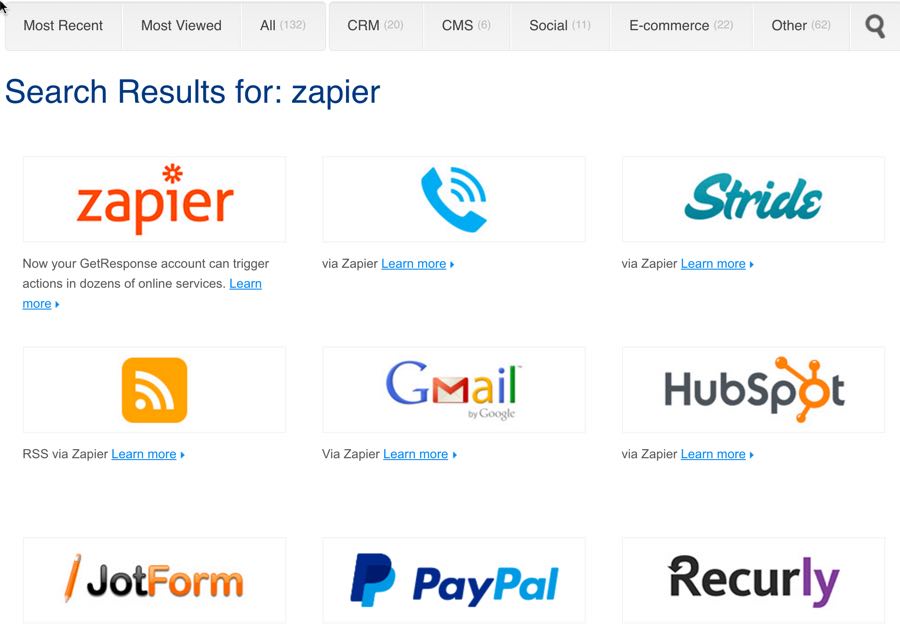 EASE OF USE:
 Here's what the main GetResponse dashboard looks like: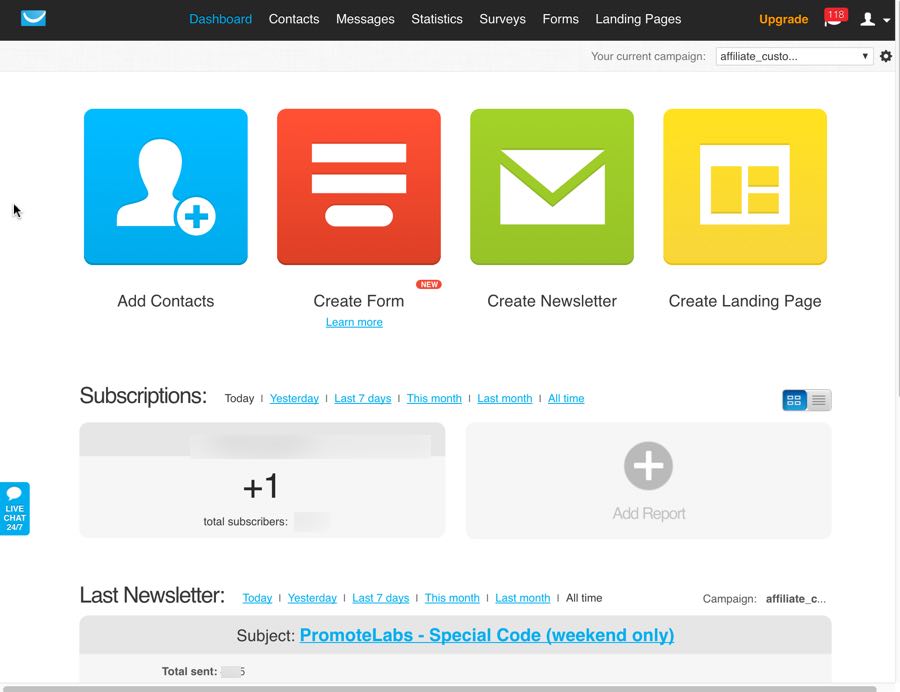 As you can see, it's fairly user-friendly and intuitive as to where you need to click in order to perform a certain task. It's definitely newbie-friendly, as you don't need any previous experience or tech background to work with the interface. If you run into any problems, GetResponse has extensive help documentation and videos to walk you through just about any task, plus you can also get in touch with a real person to help you out.
Which brings us to the next feature…
SUPPORT:
GetResponse offers both live chatting and online support through a help desk. For fast help, use live chatting, as you'll rarely wait more than a few minutes. If you use the Help Desk, you can generally expect a response within a couple hours during normal business hours.
DELIVERABILITY:
GetResponse deliverability is good, as they tout a 99% deliverability rate.  That is one of the highest rates in the industry. We've done our own extensive testing, and these stats seem to be accurate. No complaints from us!
WHO CAN USE IT?
Anyone can use GetResponse, from marketers to authors to local small business owners.
One thing that sets GetResponse apart from other services is that it's affiliate friendly. If you're an affiliate, then you'll definitely want to put GetResponse on your list of potential email service providers.
OTHER SPECIAL NOTES:
Here's one other point to consider as you're reviewing your options…
GetResponse has a built in survey option. You don't need to find another app to survey your subscribers or other people. You can use this survey to segment your list, plus you can invite respondents to join your list if they're not already subscribers.
CONCLUSION:
Get Response Bottom Line: Pros and Cons
PROS:
Templates. This includes lots of nice templates for newsletter, sign-up forms and landing pages.
List-builder apps lets you choose from and create a variety of sign-up form types.
User-friendly split-testing.
Newbie friendly platform.
Great reputation, especially in terms of deliverability.
Very good pricing for what you get.
Affiliate marketing friendly. This is one of the very few email services that not only encourage affiliate marketers to sign up, but they also work with them in the greater online marketing community.
Good Support
CONS:
Advanced automation features are lacking. Not very powerful.
Tagging isn't available.
List segmentation function needs to be updated.
We like the autoresponder GetResponse because it's very marketer friendly. Plus, you can use their APIs to get your subscribers automatically added to your list from places like JVZoo, Zaxaa, Lead Pages and so on.
[su_note note_color="#99cc99″ text_color="#feffff"]And remember… There is a free trial available for 30 days that you can use to take the autoresponder GetResponse for a spin around the block.
[su_button url="http://promotelabs.link/GetResponse" target="blank" style="flat" background="#ffffff" color="#14750f" size="7″ center="yes"]Check Out the Free Trial[/su_button]
[/su_note]
[su_note note_color="#169016″ text_color="#feffff"]See how GetResponse stacks up against other email automation services we've fully tested and reviewed in our "Top 5 Email Marketing Software Compared & Reviewed" blog post.[su_button url="https://promotelabs.com/blog/email-marketing-software/" style="flat" background="#ffffff" color="#14750f" size="7″ center="yes"]Click To Read Top 5 Email Marketing Software Reviews[/su_button][/su_note]