Gumroad was designed for creators, especially artistic types, to sell their wares. Today over 27,424 bloggers, artists and writers have used Gumroad to generate over $88,000,000 in sales. Check out this Gumroad digital platform review to see if this platform is right for you…
Fees
The monthly fee for Gumroad use is based on the number of customers. The fees start at $10 per month if you have fewer than 1000 customers, and they go up to $250 per month if you have more than 50,000 customers.
In addition, you can expect to pay a transaction fee of 30¢ + 3.5% per sale.
NOTE: You can opt to use Gumroad without paying a monthly flat fee. However, in that case the per-sale fee will be 5%, plus you'll incur the regular transaction charge of 30¢ + 3.5% per sale.
Gumroad has a marketplace called "Discover," where all your products will appear. Any sales that come through the Gumroad marketplace are subject to an additional 10% fee.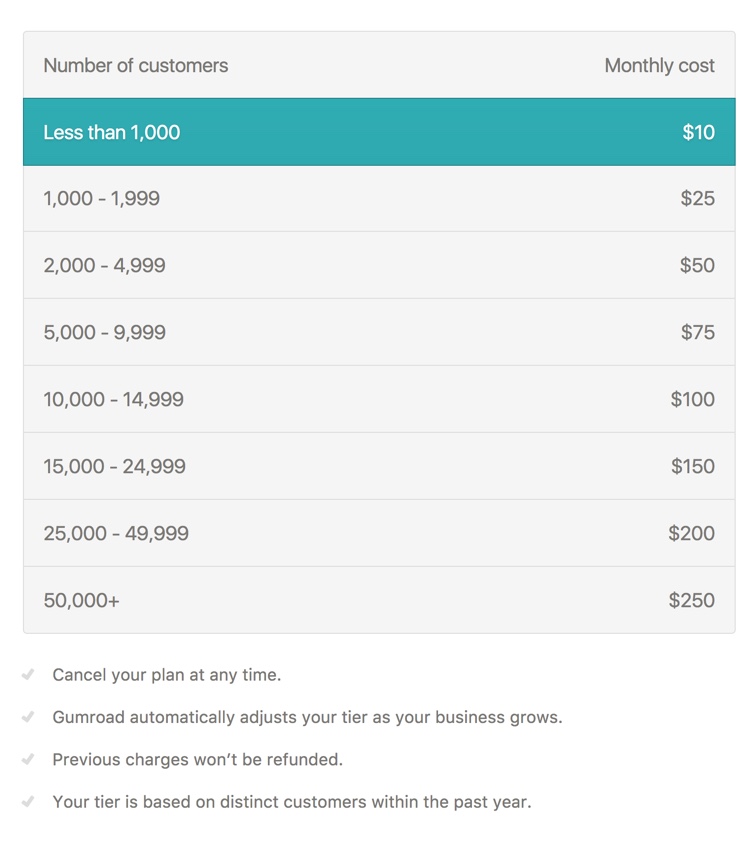 Payment Methods
Buyers have two options:
Pay with credit cards (including American Express, Visa, and Master Card).
Key Features
Now let's take a closer look at some key features to see if Gumroad meets your needs…
One-Time Payments: Yes
Recurring Payments: Yes, which makes this a good choice for membership sites, software as a service models, and similar.
Pre-order: Yes. This is a good feature to help build anticipation and buzz in your niche.
Dime Sale:  No
Coupon: Yes, you can distribute discount coupons to your users.
Sales Funnel: No, you cannot offer upsells and downsells.
List Building: No, you cannot automatically add your customers to an autoresponder.
Hide Products from the marketplace but still can accept sales: Yes. However, these "hidden" products are still searchable.
Custom IPN to integrate with external/other scripts:  Yes.
Reporting: Yes, but the reporting is basic.
Unique Features
One reason to take a closer look at Gumroad is because of these fairly unique features:
You can sell multiple versions of a product. This works great for both physical and digital products. For example, you can sell clothing in different colors. Or you can sell a "basic" and "deluxe" version of a digital product like software.
You can let buyers set their own price. Here you can use the "name your own" price model. This works particularly well for entry-level products in your sales funnel.
You can take pre-orders on a product. In other words, you can start selling a product before it's actually finished. Gumroad won't charge credit cards until the product is complete, and you have the flexibility to change the release date on the fly.
Digital Files Security
Files are hosted by Gumroad , which has a good reputation for security. Nonetheless, file protection is not as sophisticated as other platforms, such as SendOwl.
Affiliate
If you're planning on setting up an affiliate program through Gumroad , take note that it's not as affiliate-friendly as other platforms. Check these features…
JV Profit Sharing: No, not available.
Instant Affiliate Program Setup: No. Vendors need to manually invite each affiliate one by one.
Instant Affiliate Payments:  No.
 Max commission to affiliate:  No restrictions.
Automatic Bonus Delivery:  No  (Take note that this feature is for affiliates who want to offer their own bonuses, so affiliates will need to offer bonuses manually.)
On-form payment: Yes
You have the option of hosting your checkout page on the Gumroad .com website, or you can embed the checkout page on your own website.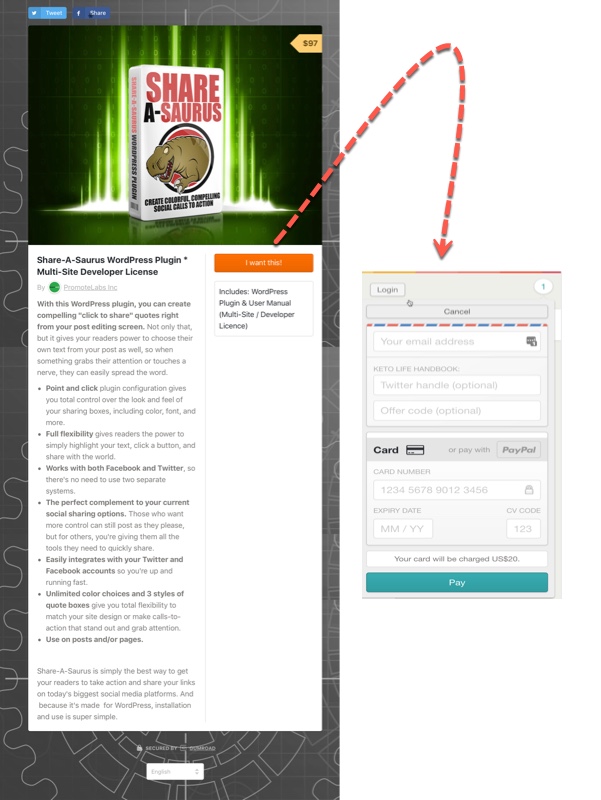 Platform Integrations/Supported
You don't need a website or a sales page, and everything is done with the Gumroad dashboard, and all files are hosted by Gumroad. This makes the process very user-friendly for beginners or those who aren't very technical.
Getting Paid
Gumroad pays its sellers every Friday via Direct Deposit, as long as you live in in the USA, Canada, the UK, or Australia. If you live outside of those four areas, then you'll get paid via PayPal.
Support
You can reach Gumroad via email (see https://help.gumroad.com ).
What is interesting to note is that at the time of this writing, we could not find support information anywhere on the Gumroad site. In fact, we had to use Google to search for the support information. Most sites put a support link on every page of their website, because they prioritize good customer support. We didn't actually try out the support feature to gauge quality, but we're a little wary of any site that hides its support links.
Who Can Use Gumroad?
While almost anyone can use Gumroad , the platform specifically caters to bloggers, writers and artists.
Gumroad has a nice interface and is very easy to use. This platform is especially appealing to product creators that want an easy way to sell their products without the hassles of coding or seeing up a website. Gumroad offers you good control of how your  files are being delivered to the end buyer, including options such as direct download, streaming, PDF stamping, rental, and product variants.
Simply put, it's a powerful yet user-friendly platform to help you get up and running fast.

Gumroad has a nice interface and is very easy to use. This platform is especially appealing to product creators that want an easy way to sell their products without the hassles of coding or seeing up a website.You can learn more about Gumroad by visiting them online just click the button below.
If you want to compare Gumroad up to nine other digital platforms (Chec, Zaxaa, SendOwl, Clickbank, etc.) then check out our post "10 Top Digital Platforms Reviewed"
Nam Tran has two great passions in life : software experimental and Japanese Kit-Kat bars. She enjoys living life the fullest, which includes eating lots of exotic and spicy foods, none of which she likes to cook herself.
Latest posts by Nam Ybarra (see all)