HappyFox prides itself on offering the power and flexibility to support a wide range of businesses around the globe. Let's take a look at their features to find out if the HappyFox help desk software is a good choice for…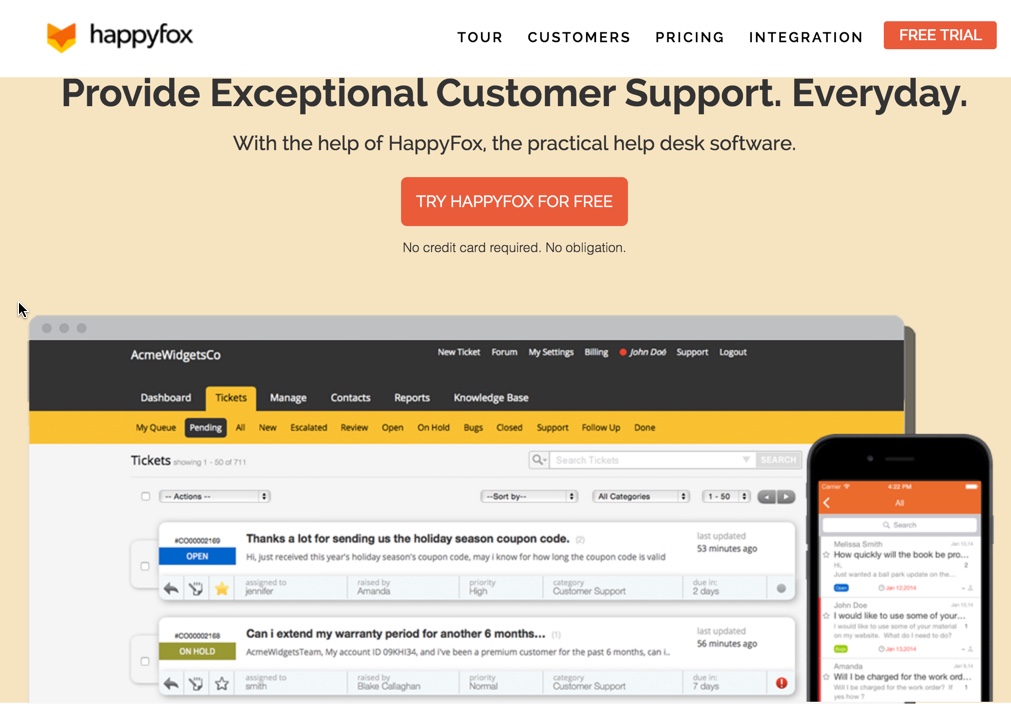 CREATE TICKETS
(Communication Channels)
Via email: Yes
Via web interface: Yes, via a login desk ticket submission form.
Via social channels: Yes, via 3rd party integration.
Via phone: Yes, this is available on some plans through 3rd party integration.
Via chat: Yes, this is available via 3rd party integration with some plans.
CUSTOMER SELF-SERVICE/COMMUNITY
FAQ: Yes.
Multi brand helpdesk support (FAQ/Knowledgebase separate for each product): Yes. You can do this for up to 10 brands, depending on which plan you select.
Widget embedding for FAQ, Ticket, Chat: Yes, you can create a contact widget on any page of your website. HappyFox offers this feature as a tabbed widget.
Here's an example of what it looks like:
Notice that it's very clearly labeled as "help," which makes it intuitive and user friendly.
DATA FILTER/ CUSTOMER POINT ON POINT TRACKING
External support: presales questions -potential buyers:   Yes.
Internal support (Ability to pass user data from inside app along with ticket to track which products customer has purchased or used to provide timely and correct support and advanced sales funnel): Yes, this feature is available, although we didn't test it.
PLATFORM
Web: Yes
Mobile app: Yes, for Android, Windows and IOS.
Voice (call center): Yes, this is available on select plans via 3rd party integration.
STAFF
Multiple agents: Yes, and there is a cost per agent. See the pricing information just a bit later for more information.
Private FAQ/knowledge base for internal use: Yes
Agent performance tracking: Yes
Private notes/ chat between agents: Yes
Agent rating/ Customer satisfaction survey: Yes
HELP DESK REPORTING AND ANALYTICS
Tag, tracking: Yes, and this can be automated as well.
Automation rules: Yes. HappyFox has what it calls "Smart Rules," which results in the software automatically taking specific actions based on predefined conditions.
For example, you can set up HappyFox to trigger notifications whenever a ticket hasn't been answered or resolved within a set period of time.
Another example: you can have HappyFox assign a ticket to a specific agent, depending on conditions such as what type of help the prospect is seeking.
OTHER FEATURES, USABILITY, PRICE
Remote control: Yes, your agents can gain remote access to your end user's computer through the LogMeIn third-party app. However, this feature is only available with select plans.
Integration: Yes, you can integrate HappyFox with many third-party apps. Take note, however, that app integration depends on which plan you select.
For example, the basic plan lets you integrate social media, live chat and other features. However, you'll need to upgrade to different plan if you're interested in features such as phone integration or the ability to access a customer's desktop remotely.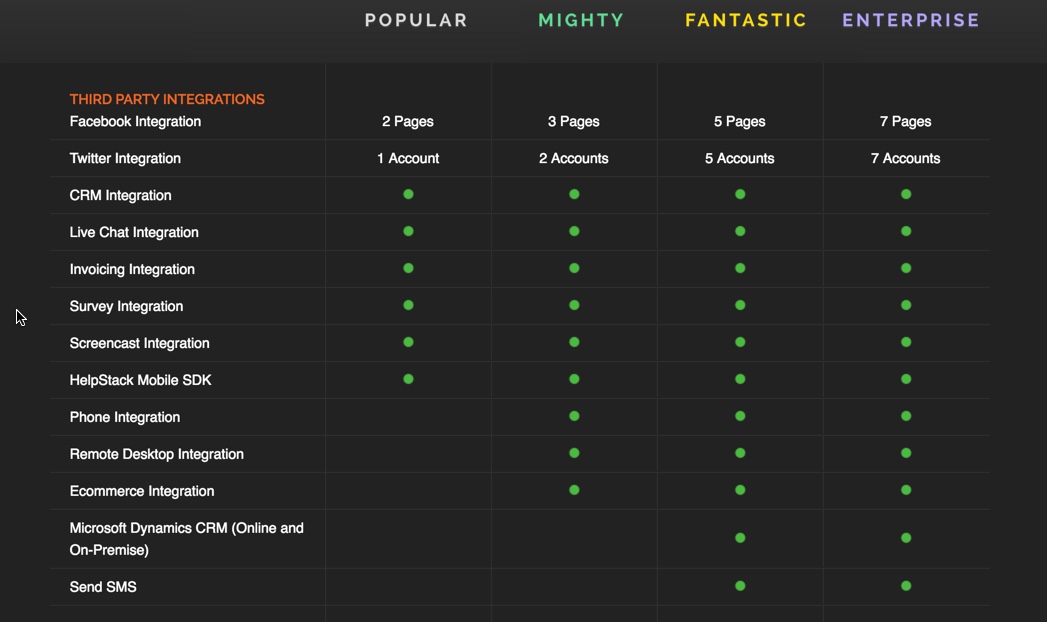 Ease of use:  HappyFox has an interesting layout compared to some competitors. However, it is easy to set up and use.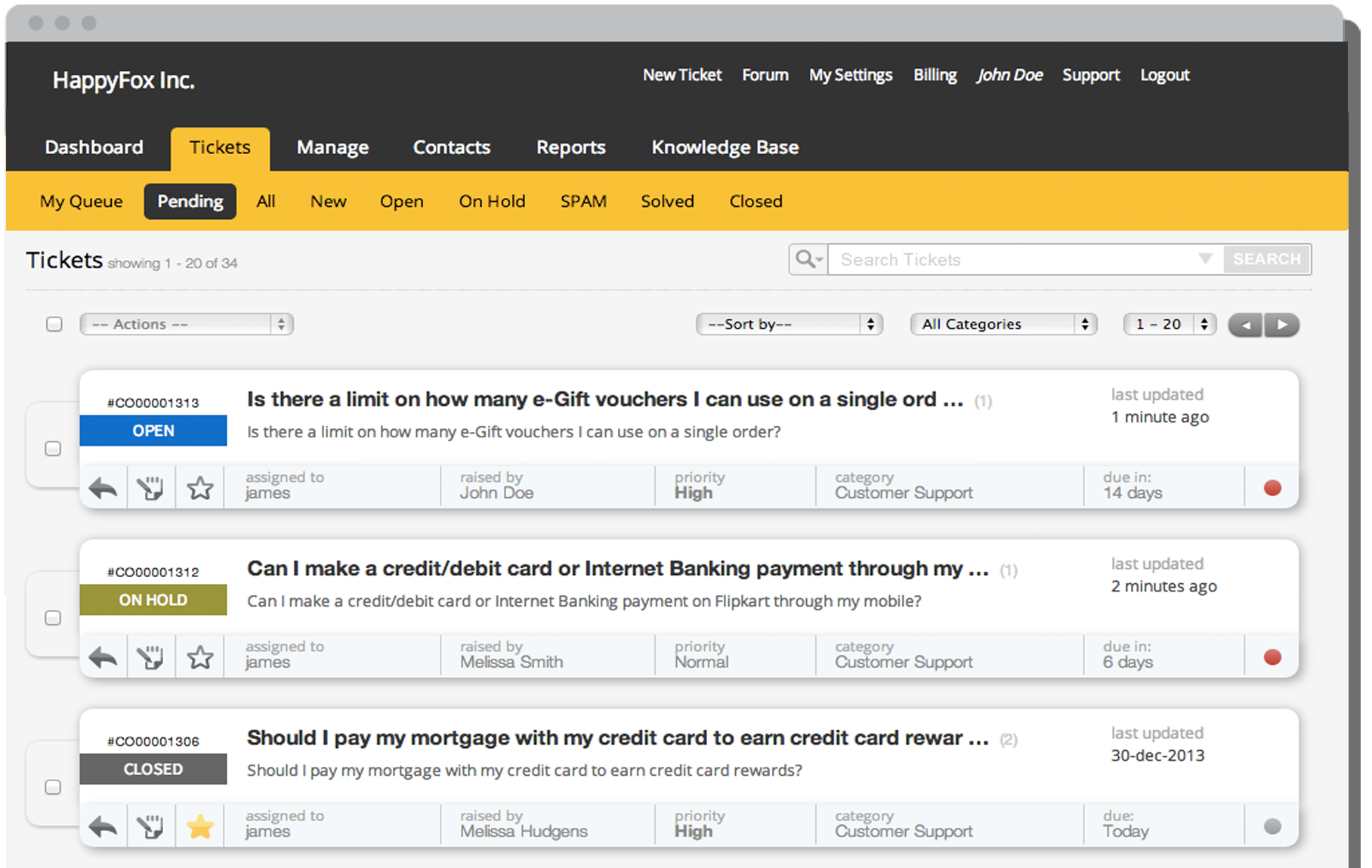 Price: As always, pricing varies according to the plan you select. It starts at $19 per month per staff (agent), and goes up to $79 per month per agent. The price varies according to plan, as well as whether you are paying monthly or annually.
Who can use it: This help desk is suitable for small, medium and large businesses. Indeed, HappyFox has many well-known clients such as Warner Brothers, Lowe's home improvement stores, the YWCA, Sennheiser and many more.
PROS:
What we really like about HappyFox is that it's feature-rich, easy to use, and has a fun interface.
That makes it a good choice, because it's powerful enough for your business, yet it's also easy for your agents to learn how to use it.
CONS:
The biggest downside of HappyFox is that it can get expensive once you start adding more agents and apps. So when you start comparing pricing, be sure you take into consideration exactly what you'll need in terms of agents and apps so that you can get an accurate idea of the price.
Secondly, the other downside is that the widget format would be designed a little better. That's not a deal breaker, but you'll want to look at it to see if it meets your expectations.
So is HappyFox right for you? Happy Fox has a free trial available and if you'd like to learn more about HappyFox, the practical help desk and customer support software solution, check them out by clicking the button below.
If you want to compare more help desk services up to Happy Fox then check out our post "Help Desk Software Reviews & Comparisons"
Latest posts by Nam Ybarra
(see all)