The HelpScout help desk launched in 2011, and today it powers more than 5000 support teams in 70 countries. Will it suit the needs of your business too?
 Check out their features to learn more…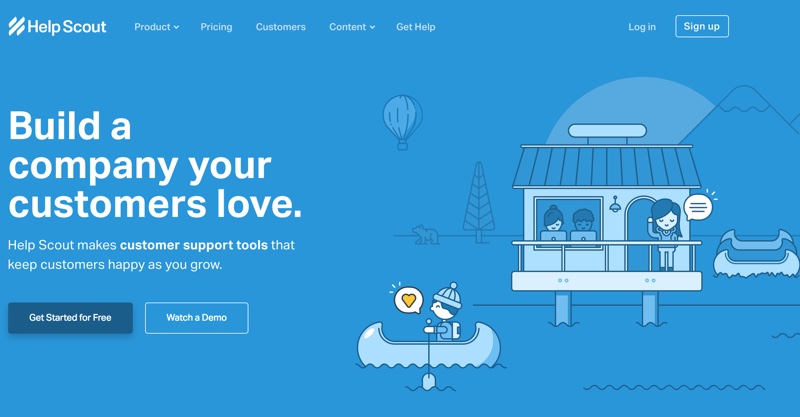 CREATE TICKETS
(COMMUNICATION CHANNELS)
Via email: Yes
Via web interface: No
Via social channels: No
Via phone: Yes. This is available through third-party integration, and there is an extra cost associated with this feature.
Via chat: Yes. This is available through third-party integration, and there is an extra cost associated with this feature.
CUSTOMER SELF-SERVICE/COMMUNITY
FAQ: Yes
Multi brand helpdesk support (FAQ/Knowledgebase separate for each product): Yes. You can offer up to three brands with the basic plans. If you need more, you can select a higher-tier plan and get more brands at an extra cost.
Widget embedding for FAQ, Ticket, Chat: Yes. HelpScout offers a very powerful yet beautiful beacon-style widget.
What sets HelpScout apart is that you can set up this beacon with automated suggestion rules. This means that when your web visitor is looking for something, your beacon will offer related articles and other content. In turn, this cuts down on customer service tickets, as your visitors will find the answers to this question through the beacon widget. It's a great way to provide a user-friendly experience while also cutting down on support requests.
Here's what the beacon looks like: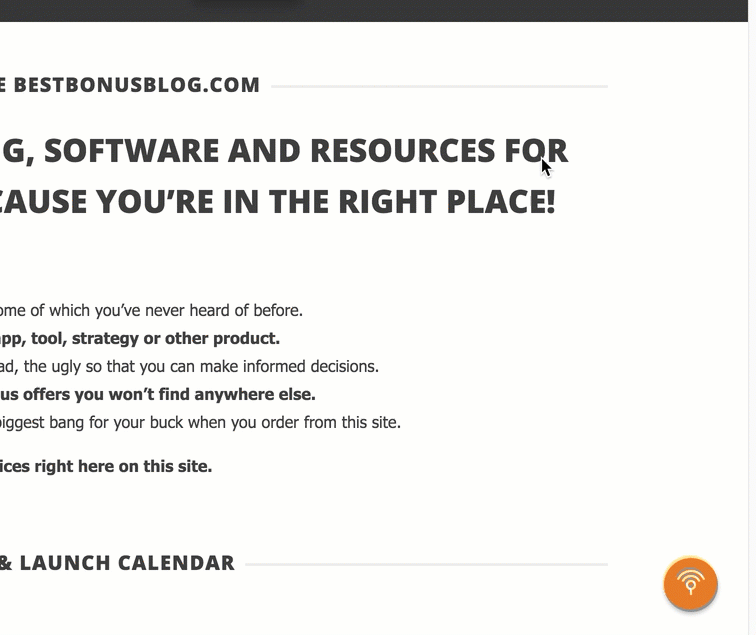 Data filter/ Customer point on point tracking
External support: presales questions -potential buyers:  Yes.
Internal support (Ability to pass user data from inside app along with ticket to track which products customer has purchased or used to provide timely and correct support and advanced sales funnel):  Yes, though this function is limited.
PLATFORM
Web: Yes, but this platform is for support staff only.
Mobile app: Yes, but currently only available on IOS platforms.
Voice (call center): Yes, this feature is available at an extra cost through third-party integration.
STAFF
Multiple agents: Yes. There is a cost per agent.
Agent performance tracking: Yes
Private notes/ chat between agents: Yes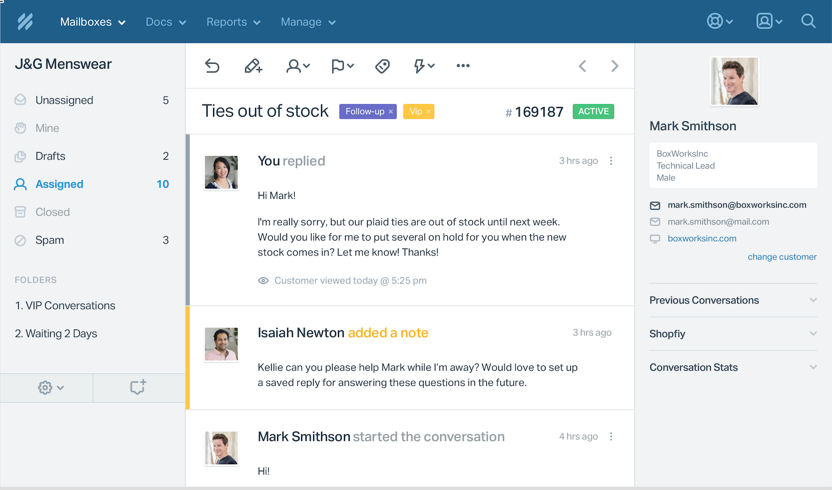 Agent rating/ Customer satisfaction survey: Yes
HELP DESK REPORTING AND ANALYTICS
Tag, tracking: Yes, and these features are very good and powerful. For example, you can use tagging to categorize conversations or to trigger automations. Which brings us to the next point…
Automation rules: Yes, and these automations are time-saving, powerful and create a great customer service experience.
You can set up simple "if/then" workflow rules to trigger automations. For example, if a ticket is for a certain category or includes something specific within the subject line or body, you can assign this ticket to a particular agent.
Another example: if a ticket includes a tag related to an outage, then you can send an automated or bulk response to that ticket. This saves a lot of time when you get a flood of requests due to something like a web outage or special sale.
Reporting: Yes. HelpScout gives you the most important data at a glance, including busiest time of the day, most-used tags, which workflow rules are being triggered, most active customers, and more. Together, this information can help you make better staffing decisions and create automation rules to boost efficiency.
OTHER FEATURES, USABILITY, PRICE
Remote control: No, remote access is not available.
Integrations: Yes, HelpScout integrates with over 40 products, services and apps, including Slack, InfusionSoft, MailChimp, Magento, Zapier, KISSMetrics and many more.

Ease of use:  HelpScout is fairly easy to use. However, set up does require some knowledge of HTML and Javascript, especially if you want to install and customize features such as the beacon widget.
Price: Prices range from $0 to $40 per user per month, depending on what you need. Take a look at the features you get with each plan: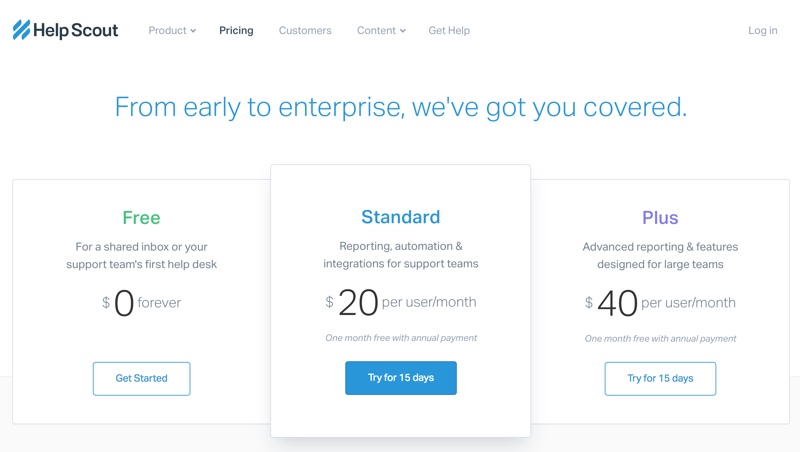 Who can use it: HelpScout is tailored for small to medium sized businesses that focus on email support.
Pros:
Here's what we like about HelpScout:
Beautiful, customizable beacon-style FAQ widget. This widget lets you show relevant articles to your visitors, which greatly cuts down on the number of support tickets. Most widgets just show embedded contact forms. This widget shows relevant information. What's more, you can also customize the beacon for different pages and websites.
Unlimited messages and storage. This is a great feature if your customer service desk experiences heavy traffic.
Nice reporting, tagging and tracking. These features save time and help you make staffing decisions.
40+ integrations. Better yet, many of these integrations are free and very useful.
Agent rating and customer satisfaction surveying available. Again, this helps you make training and staffing decisions, and ensures your team is providing great care to your customers.
Cons:
The biggest downside of using HelpScout is that customers can only create tickets via email. During our tests we've seen instances where a customer didn't receive a response because their email provider blocked it. Chances are, the customer assumes that the company simply didn't bother to reply. That reflects poorly on you and your company, and can even cost you business.
Update:  the solution for this is setting up SPF, DKIM, DMARC, or  custom smtp settings and Google oAuth  correctly according to HelpScout.  They are a bit complicated  we asked our admin to look into it and it took him a while to set it up so for a non-techie person this is a lot to handle- you will need to  seek help from your hosting provider.
Bottom line: it would be great if HelpScout provides a help desk login, which would let customers check for a ticket response without relying solely on email.
Update: HelpScout reached out to us and suggested the following workarounds although we have not tried it.
Quote from HelpScout…
There's a third party WP plugin that will create the login portal you're looking for: Help Scout Desk by Sprout Apps Also, we have a Smooch integration that allows you to communicate directly in app, and also a bunch of other things like FB messenger and such: Smooch. Help Scout
Visit Help Scout Desk by Sprout Apps   Click Here    |    Visit Smooch  Click Here
We would just like to mention that we've used Help Scout ourselves since 2015 and really like them, in fact we use them on all our sites now.
If you'd like to learn more about HelpScout's customer support tools or to get started for free, check them out by clicking the button below.
If you want to compare more help desk services up to HelpScout then check out our post "Help Desk Software Reviews & Comparisons"
Latest posts by Nam Ybarra
(see all)