Intercom started in 2011 with a focus on providing a user-friendly support platform for businesses. Today they serve over 13,000 businesses around the world.
Take a look below to see what Intercom offers you…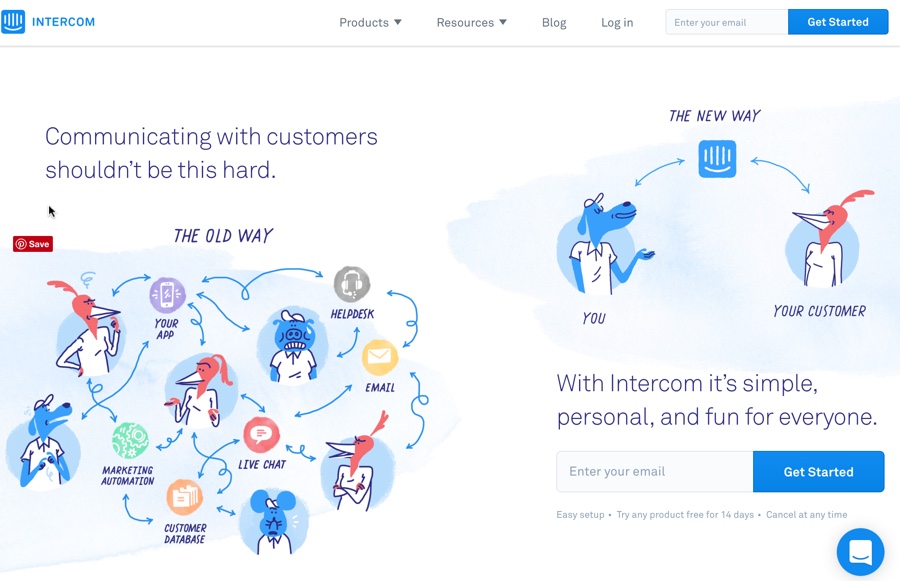 CREATE TICKETS
(Communication Channels)
Via email: Yes
Via web interface: No, there is no login desk submission form.
Via social channels: Yes
Via phone: No
Via chat: Yes
CUSTOMER SELF-SERVICE/COMMUNITY
FAQ: No
Multi brand helpdesk support (FAQ/Knowledgebase separate for each product): No
Widget embedding for FAQ, Ticket, Chat: Yes. They offer a beautiful beacon-style widget. However, the beacon widget is only available for live chat and offline messages.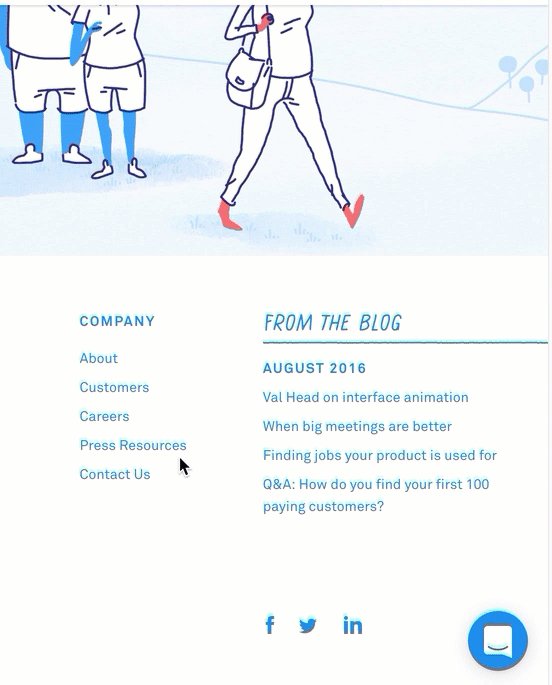 You can see a live example of this beacon in action at https://www.intercom.com/.
DATA FILTER/ CUSTOMER POINT ON POINT TRACKING
External support: presales questions -potential buyers:   Yes.
Internal support (Ability to pass user data from inside app along with ticket to track which products customer has purchased or used to provide timely and correct support and advanced sales funnel): Yes, and Intercom does a great job with this feature.
The reason why this feature is so powerful is because Intercom lets you track your customers through your sales funnel in a way no other traditional help desk can. In turn, this enables your support staff to provide a better customer service experience.
For example, let's imagine you have a membership site. Intercom lets you see at a glance all the information you need to know about a customer, such as:
Their membership level.
When they purchased their membership.
How often they use their membership.
You can get all this information and more without your support staff having to ask the customer.
Take a look at this example: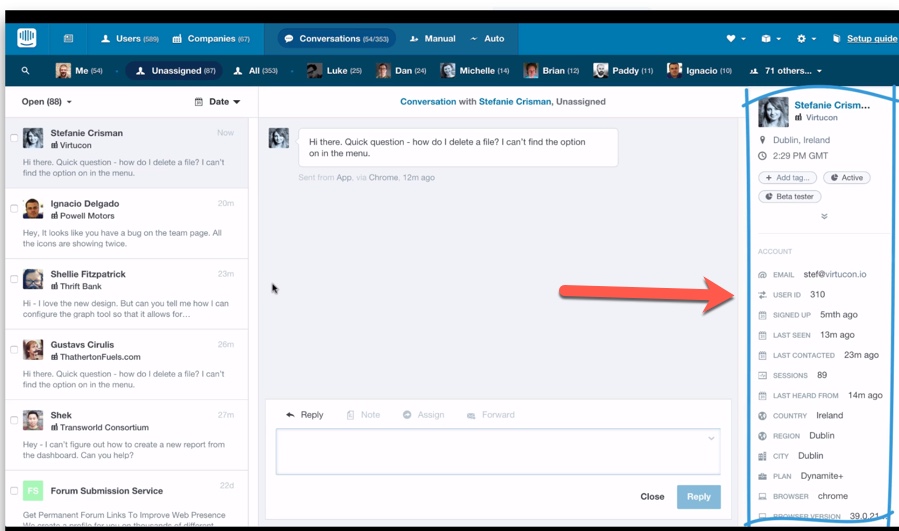 You can then segment your customers based on this information. You can send them targeted marketing information, follow ups, or even put them into a new sales funnel. So not only does Intercom offer a powerful way to provide support, it also help you with your back-end marketing.
Those who offer SAAS solutions and similar will find these features particularly powerful and effective.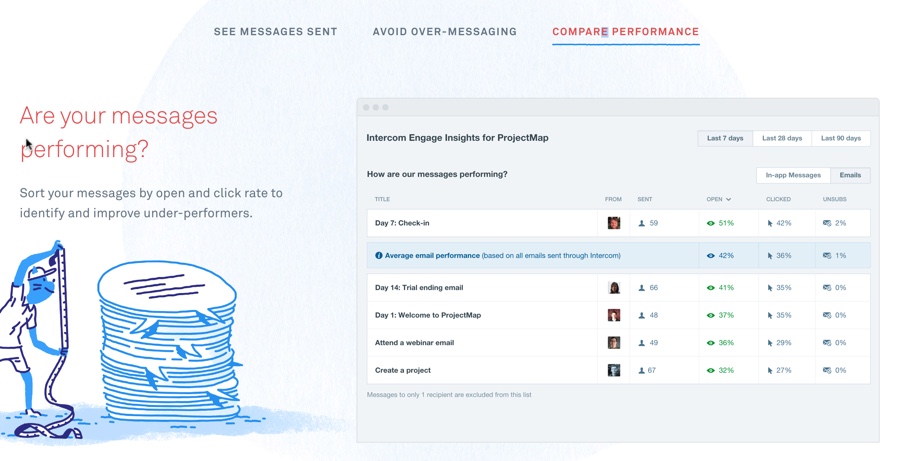 PLATFORM
Web: Yes, via a chat window.
Mobile app: Yes
Voice (call center): No
STAFF
Multiple agents: Yes, you can have an unlimited number of agents. See the pricing section below for more information.
Private FAQ/knowledge base for internal use: No
Agent performance tracking: Yes, but it is very basic.
Private notes/ chat between agents:  Yes
Agent rating/ Customer satisfaction survey: No
HELP DESK REPORTING AND ANALYTICS
Tag, tracking: Yes. Intercom does a great job with this feature, as they offer group segmenting and precise targeting.
Automation rules: Yes, they do this very well. They offer the ability to do tasks such as automatically assigning specific agents to certain types of tickets.
Reporting: Yes. You can get a quick overview of important metrics such as when your help desk is busiest, and how long it takes to respond to inquiries.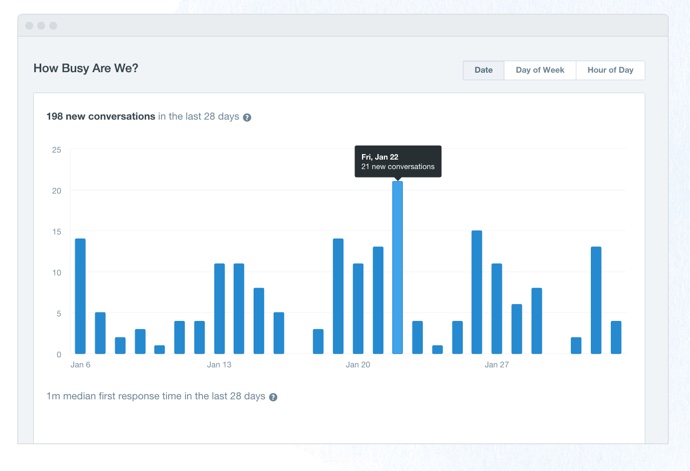 OTHER FEATURES, USABILITY, PRICE
Remote control: No, remote access is not available.
Integrations: Yes, there are some available. Some of the most popular integrations include Facebook, GitHub, Stripe, WordPress and more.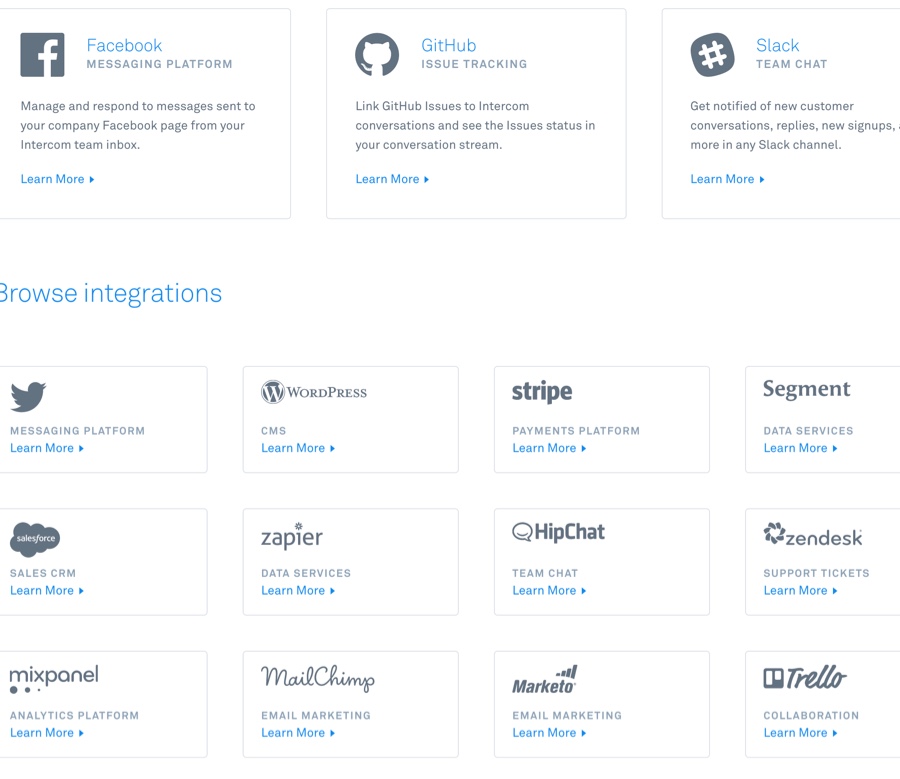 Ease of use:  While Intercom is powerful, using it does come with a learning curve. What's more, you do need to have some coding knowledge (such as HTML and javascript) in order to customize the beacon widget.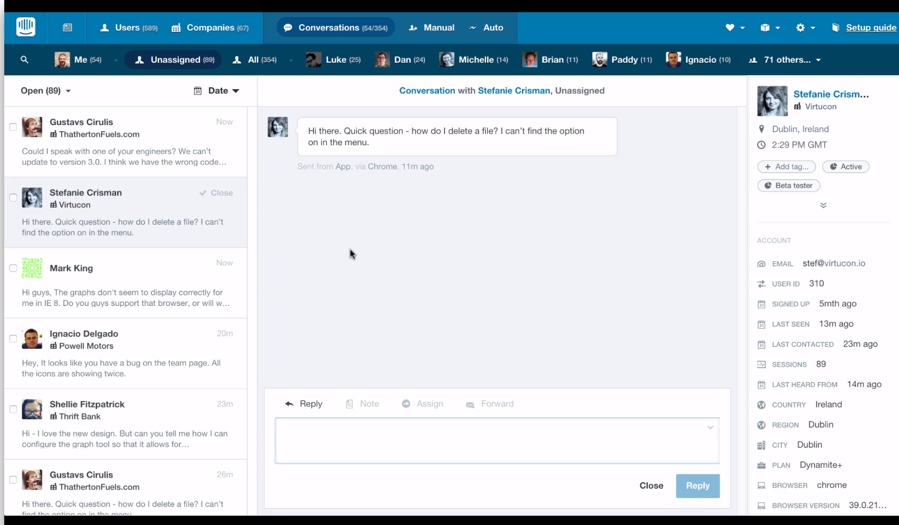 Price: Intercom offers three platforms that you can use individually, or integrate for a complete solution. These platforms include:
Acquire, which is where your support staff can chat with prospects.
Engage, which is where you can send targeted messages to customers through email and in-app messages.
Support, which is where your customers can ask their questions and receiving support.
Pricing starts at $49 per month each for the Acquire and Support platforms, and $53 per month for the Engage platform.
Unlike other help desk platforms, Intercom does not charge a price per agent, and you can have unlimited agents. Instead, pricing is based on the number of people you track and communicate with. This automatically adjusts as your business grows and you start tracking more people.
Who can use it: This is a great option for those offering SAAS, as well as anyone wanting to offer real-time chatting.
PROS:
Here's what we like about Intercom:
Unique system with comprehensive customer tracking. This is one of Intercom's strongest selling points.
Beautiful beacon and chat window. These professional design touches inspire confidence in your prospects and customers.
CONS:
Here's what we don't like about Intercom:
Expensive, confusing and unclear pricing plans and terms. Because of its multiple platforms with multiple sliding-scale pricing, it can be confusing to easily do any pricing comparisons.
May create a load on your support staff. That's because Intercom focuses on live chat, so users are going to expect instant responses. You'll need to have the staff available to effectively cover your desk during peak times.
Can be confusing to track conversations. That's because the system is based on "chats" rather than tickets.
System runs slow at times. During our tests we had slow response times occasionally. Since you're doing live chats, you need this feature to be as fast as possible to offer timely help.
If you'd like to learn more about Intercom's integrated knowledge base and help desk by getting started for free, check them out by clicking the button below.
If you want to compare more help desk services up to Intercom then check out our post "Help Desk Software Reviews & Comparisons"
Latest posts by Nam Ybarra
(see all)