Kayako started in 2001 as an answer to the boring, confusing and clunky support solutions that dominated the market. Today Kayako continues to focus on offering user-friendly solutions to over 131,000 customers.
Let's look at their features to see if Kayako is a good fit for your business…
CREATE TICKETS
(Communication Channels)
Via email: Yes
Via web interface: Yes
Via social channels: Yes
Via phone: No
Via chat: Yes
CUSTOMER SELF-SERVICE/COMMUNITY
FAQ: Yes.
Multi brand helpdesk support (FAQ/Knowledgebase separate for each product): Yes, on some select plans.
Widget embedding for FAQ, Ticket, Chat: Yes, this is available for the live chat feature.
Here's a look at the beacon-style widget:
You can set up the Messenger to automatically point to useful resources, which cuts down on your customer support requests. If your support staff is offline, users can leave a message. If this particular customer has talked to your support staff before, then this new message is posted alongside other conversations for quick and easy referencing.
DATA FILTER/ CUSTOMER POINT ON POINT TRACKING
External support: presales questions -potential buyers:  Yes
Internal support (Ability to pass user data from inside app along with ticket to track which products customer has purchased or used to provide timely and correct support and advanced sales funnel):  No.
NOTE: Although we didn't test it, it may be possible to do this through a third-party integration with Zapier.
PLATFORM
Web: Yes
Mobile app: Yes
Voice (call center): No
STAFF
Multiple agents: Yes. There is a cost per agent. See the pricing section just a bit later for more information.
Private FAQ/knowledge base for internal use: Yes
Agent performance tracking: Yes
Private notes/ chat between agents: Yes
Agent rating/ Customer satisfaction survey: Yes
HELP DESK REPORTING AND ANALYTICS
Tag, tracking: Yes
Automation rules: Yes
Reporting: Yes. Kayako gives you a good overview of your help desk response times, what percent of cases were resolved during the first contact, when your help desk is busiest, and more.
OTHER FEATURES, USABILITY, PRICE
Remote control/access to customer's computer:  No.
Integrations: Yes, by integrating Kayako with Zapier, which gives you access to hundreds of popular apps and services such as Stripe, SalesForce and Slack.
Ease of use:  Kayako presents a very clean interface, but it's not entirely intuitive. Some items don't carry common labels, so you may find yourself clicking around to find what you need. That means you will need to set aside time to familiarize yourself with the interface and train your staff.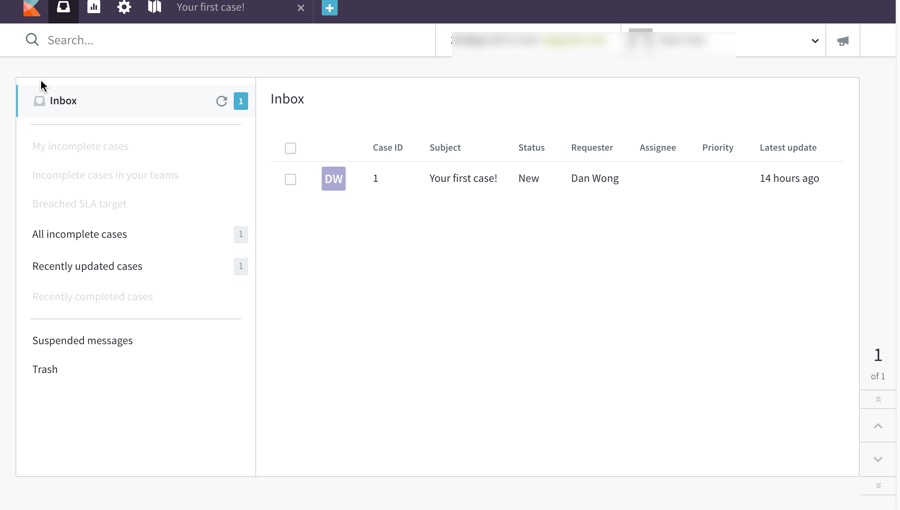 Price: Kayako has three main plans, each of whose prices vary on two factors:
Number of agents per month, as each plan is billed per agent, per month.
Whether you get billed annually (which is less expensive) or choose a month-to-month billing options.
Who can use it: This help desk is suitable for any type of small business.
PROS:
The things we liked most about Kayako is:
Live chat is built in for all plans.
Integrating Kayako with Zapier allows for plenty of integration options
CONS:
We found two main downsides:
The uncommon labeling in the dashboard, which makes it less intuitive. For example, Kayako uses the label "case" rather than the more commonly used label "ticket." If you're new to using a help desk, this likely won't present a problem for you. If you've been using other solutions, then these uncommon labels may take some getting used to.
The dashboard has a lot of gray text on a white background. This quickly fatigues the eyes, and it can be downright problematic for those who have problems reading low contrast text.
If you'd like to learn more about Kayako's unified customer service platform or try them out free, check them out by clicking the button below.
If you want to compare more help desk services up to Kayako then check out our post "Help Desk Software Reviews & Comparisons"
Latest posts by Nam Ybarra
(see all)