This is another feature-rich WordPress plugin. The plugin was developed in 2009, and initially it was offered as a boutique solution for high-volume merchants. Today it's available to anyone who wants to run a membership site on a WordPress platform.
Is it a good fit for your business? That's what this MemberMouse membership site services review will help you decide…
        Click the Button Below to try MemberMouse FREE for 14 days!
Fees:
The fee ranges from $19.99 per month to $299 per month, and it's based on the number of members and additional features.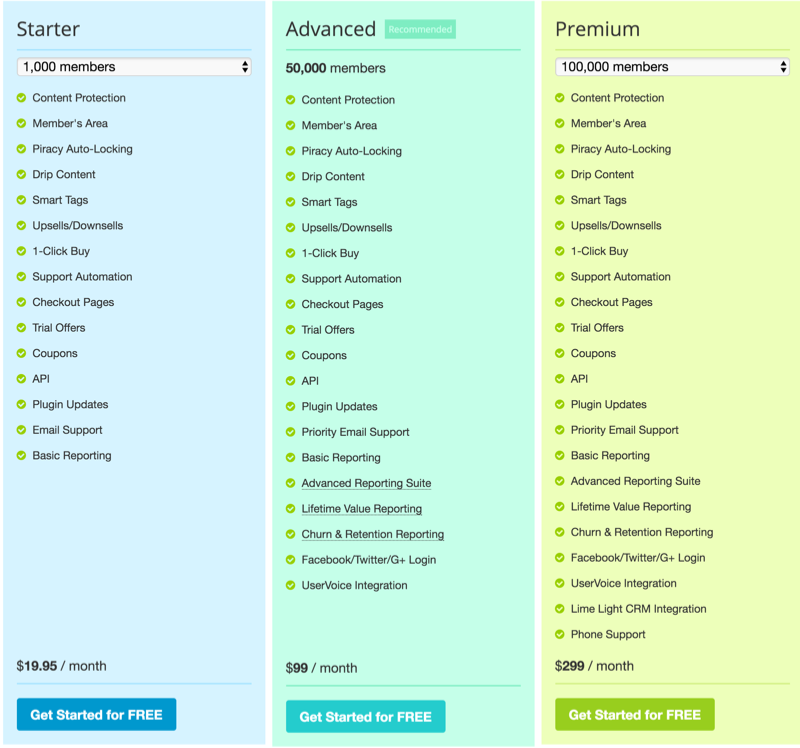 Type:
This is a WordPress plugin, so you'll need to have our own domain and hosting, as well as an active WordPress installation and MemberMouse plugin.  In addition, SSL is required for some selected payment gateways.
Key Features
Payments Supported: MemberMouse supports Stripe, Braintree, Authorize.net, ClickBank, PayPal, and CoinBase.
Note: If you use on-site payment methods such as Stripe or Braintree, you'll need an SSL and a PCI-compliant site.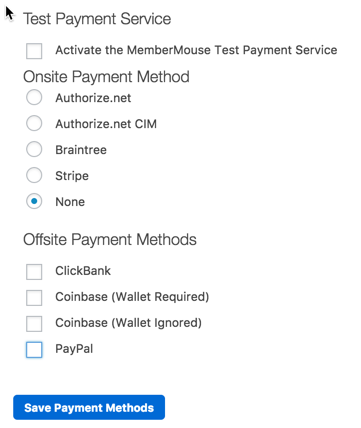 One Time/Recurring Payments/Trial: Yes, all of these options are available.
Coupon: Yes, you can distribute percent-off coupons, dollars-off coupons, and even coupons for free products.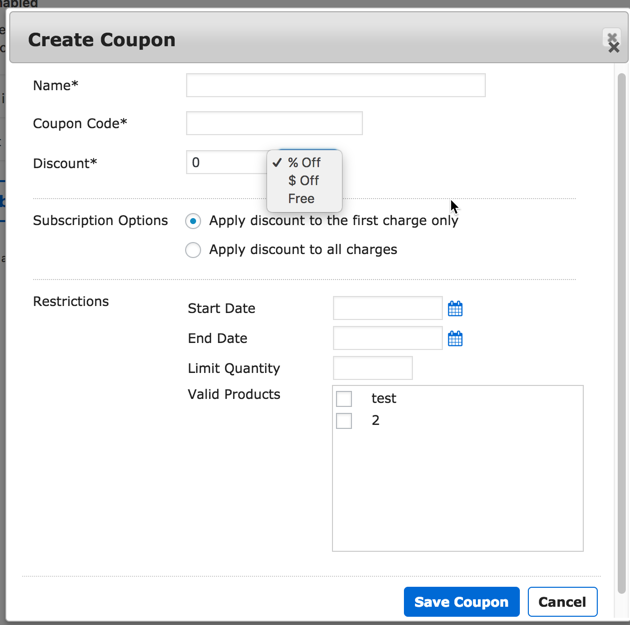 Sales Funnel: Yes, you can offer an upsell/upgrade to your customers using product-specific confirmation pages or product SmartTags. This means that you can offer upsells of related products in a very targeted way.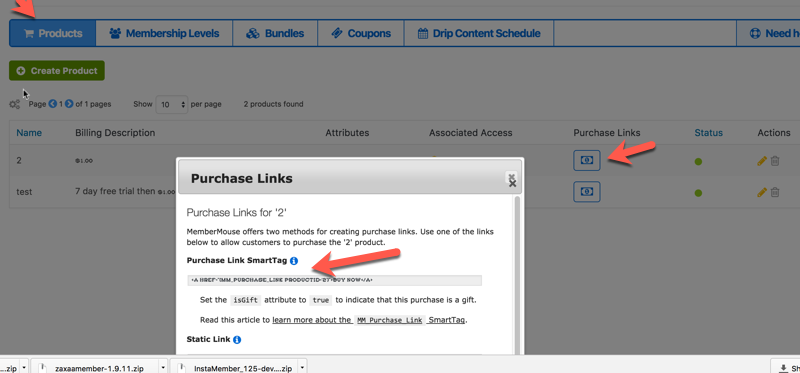 List Building:
Able to add buyers to an autoresponder? Yes.
Support: MemberMouse supports the use of Aweber, GetResponse, MailChimp, ActiveCampaign, and iContact . However, unlike some competitors, MemberMouse only allows you to use one provider (so you can't use different email service providers for different products/membership site offers). If you have not chosen your email/autoresponder service yet, you can check out our reviews on the "Top 5 Email Marketing Software | Compared & Reviewed" here.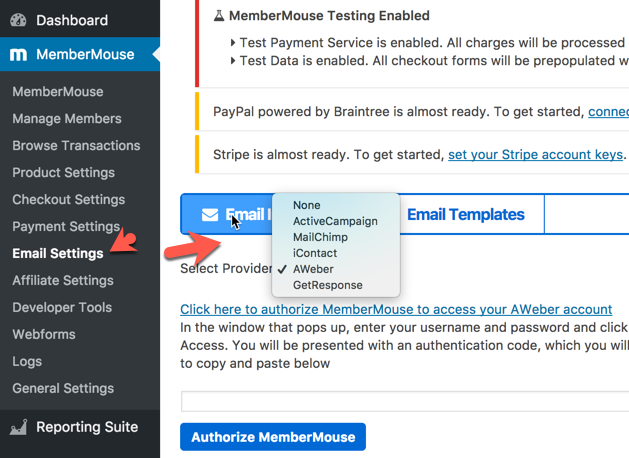 Built-In Affiliate Program: Yes, there is an option to integrate with iDevAffiliate.
Content and File Protection
Drip-feed content: Yes.
Take note that you cannot protect custom post types if they're on a drip-feed schedule. You'll need to protect and schedule this content one post at a time.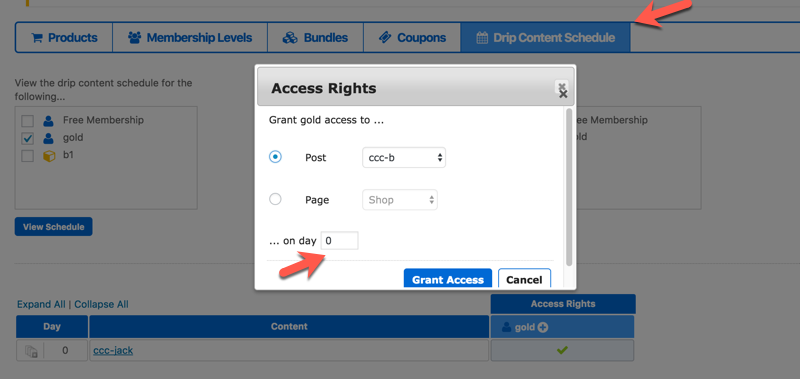 File Protection: MemberMouse protects pages and posts with a password and an IP login limit.  Login is via a social media account. If you want hard protection, you'll need to use a third-party plugin.
Content teaser:  Yes, you can show teaser content to people who aren't members.
Membership and Products: You can have an unlimited number of memberships and products.
You also have the option to create and sell a bundle of products.
There's also a gifting functionality, which allows your customers to purchase memberships and then distribute them to others as they see fit.
Customer self-service: Yes, customers can update, upgrade and cancel their billing directly from their accounts. However, this function depends on if you choose a payment gateway that supports this function, such as Stripe.
Admin can manually add/edit/manage members? Yes, you can manage members through the plugin dashboard.
Auto upgrade or downgrade membership? It's possible, but it depends on the payment gateway you select, as not all support this function.
Custom IPN to integrate with external/other scripts:  Yes, this is possible if you have the technical knowledge required to do it.
Reporting: Yes, you have access to stats to track performance. Advanced reporting is available in some selected plans.
Members' activity log: Yes, this information is available to you.
Ease of Use
We found that there are some learning curves required to set it up, but overall it is not too complicated to use. The tedious parts include configuring your payments and setting up the members' area.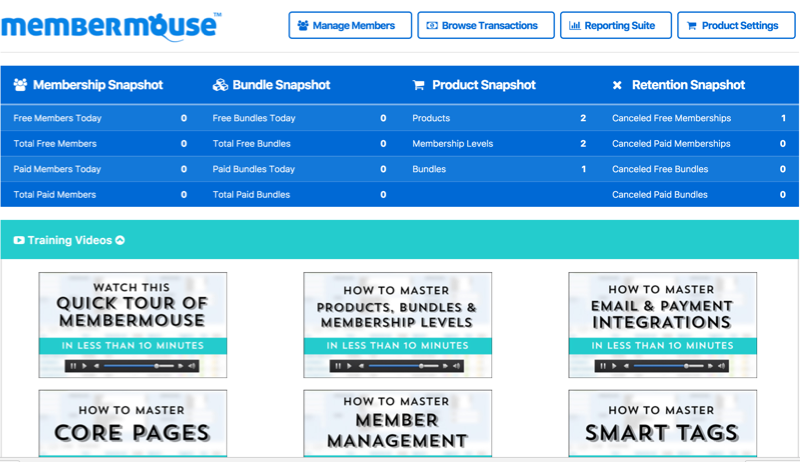 Unique Features:
Here's what's unique about MemberMouse, especially as compared to many of the competitors:
Onsite payment option which lets you handle everything through your dashboard.
Option to bundle products.
The gifting functionality, which allows people to purchase memberships and then distribute the memberships to other people.
Support:
Primary support with the company is available through a helpdesk. There is also a user forum where you can get answers from others who use the plugin. Finally, a comprehensive self-service FAQ portal is available as well.
Our Thoughts About MemberMouse
MemberMouse is feature-rich, stable and well supported. The navigation flows nicely, and all features are easily accessible without unnecessary clicking. We also like the onsite payment option, which allows you to set the price and billing terms directly from your admin dashboard.
It can be a fine solution for a membership site unless your focus is on the following features:
The payment gateway currently does not support the popular platforms JVZoo and the Zaxaa affiliate marketplace.
The autoresponder section does not support HTML forms, so you can't use autoresponder providers other than the ones that MemberMouse specifically supports.
Digital file protection is just a simple page/post login protection. One would need to use other third-party plugins in order to achieve hard protection.
Now the next option…
To learn more about this solution, visit MemberMouse online – Click the Button Below
If you want to compare Member Mouse up to six other membership website services (WishList, MemberMouse, InstaMember, etc.) then check out our post "Membership Website Services Review"
Latest posts by Nam Ybarra
(see all)