Sellfy is a platform for writers, filmmakers, designers and other creators who want to sell digital goods. The platform was founded in 2011, and today it boasts over 100,000 vendors with over one million products. Check out this Sellfy digital platform review and…
Let's take a closer look to see if Sellfy is a good fit for your business model!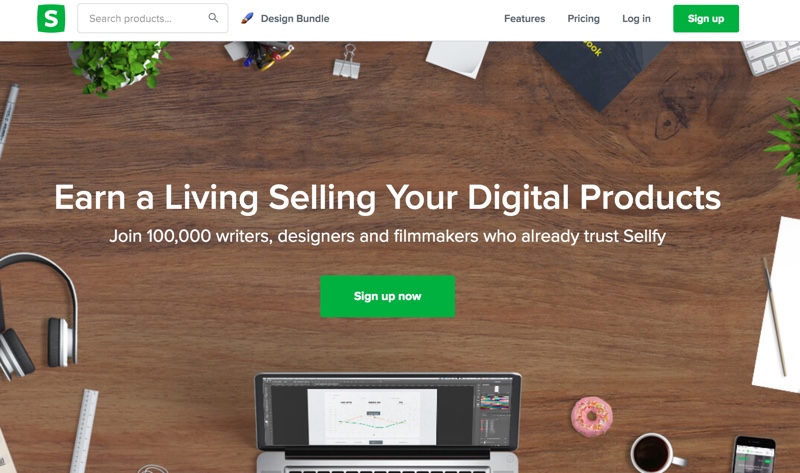 Fees
Sellfy has three options:
The Starter Plan, which is $0 per month with 5% per transaction/.
The Professional Plan, which is $15 per month and 2% per transaction.
The Publisher Plan, which is $250 per month and 2% per transaction.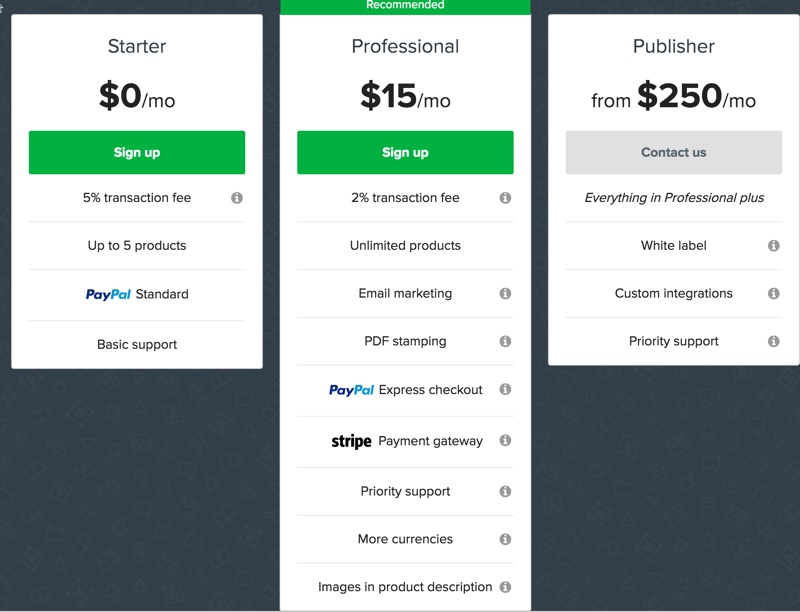 Take note that the Professional and Publisher Plans come with extra features, such as additional payment gateways, more currencies, PDF stamping and more.
Take note that your payment gateway fees are separate from the fees that Sellfy charges you.
Payment Methods
Depending on the plan you choose, you have these payment methods available for your buyers:
Stripe (only available in Pro and Publisher plans).
PayPal (PayPal Express is only available in Pro and Publisher plans).
Key Features
Now let's check to see if Sellfy has the key features you need to grow your business…
One-Time Payments:  Yes.
Recurring Payments: No, so this is not a good fit if you're selling memberships, subscriptions or similar offers.
Trial Payments: No, this feature is not available.
Dime Sale:  No, this feature is not available.
Coupon: Yes, you can distribute coupons.
Sales Funnel: No, you cannot offer upsells and downsells during the ordering process.
List Building: No, you cannot automatically add your buyers to an autoresponder.
Hide products from the marketplace but still can accept sales: Yes.
Custom IPN to integrate with external/other scripts:  Yes.
Reporting: Yes, you can keep track of your sales statistics.
Unique Features
What makes Sellfy unique from many of the other platforms we've reviewed is that it's a marketplace. This means you have your own storefront where you can showcase all your products.
Another unique feature is that you can give your customers the option either pay full price, or they can get your products for free after they've shared your page on social sites. This is a great way to create some viral buzz in your niche.
There's also the option to see the "name your own" price feature, which is a good way to introduce entry-level customers into your sales funnel.
Digital Files Security
All files are hosted on the Sellfy's server. These files are only available in the downloadable format, so you cannot offer streaming video or similar options.
Affiliate
Sellfy doesn't have the advanced or sophisticated affiliate features of other platforms…
JV Profit Sharing: No.
Instant Affiliate Program Setup: No.
Instant Affiliate Payments:  No.
Automatic Bonus Delivery:  No. (This feature is for affiliates who want to offer their own bonuses.)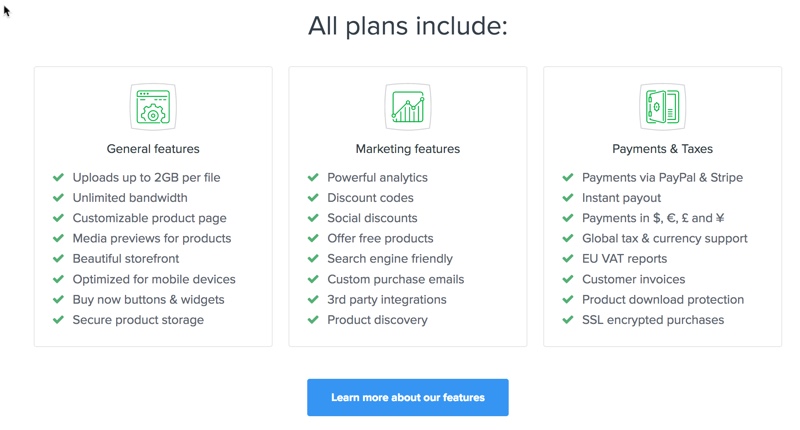 On-form payment: Yes
You have two options: you can embed the checkout page on your own domain, or you can let Sellfy host it on their domain.
Here's an example of a Sellfy checkout page: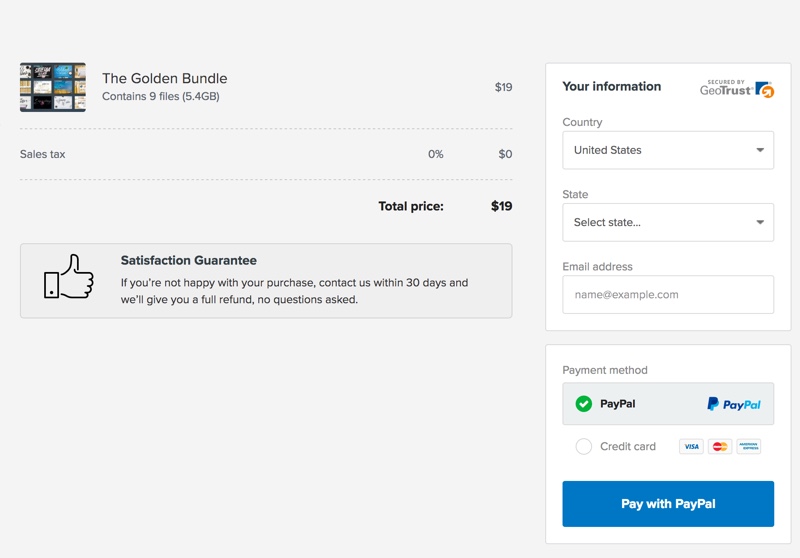 Here's an example of the embedded form: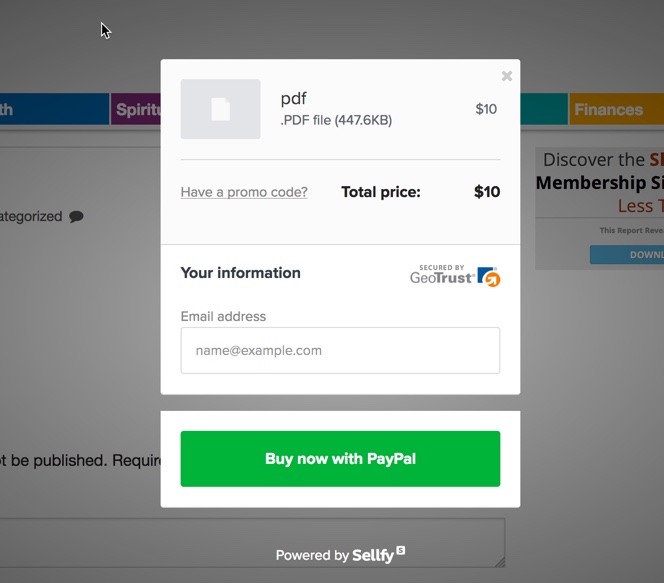 Platform Integrations/Supported
You can get everything up and running fast by copying and pasting a Sellfy buy button into your sales page. Alternatively, you can send people directly to your Sellfy-hosted storefront or even a product-specific page. You don't even need your own website if you select this option.
Getting Paid
You'll receive your money instantly after the purchase is complete. Payments will be made directly into either your PayPal or Stripe account, depending on which gateway you choose for payment processing.
Support
You can reach Sellfy support via their helpdesk at: http://docs.sellfy.com/
Who Can Use Sellfy
Sellfy is a good option if you're a beginner who isn't looking for a lot of features. That's because Sellfy isn't very powerful – instead, it focuses on simple, core features such as handling one-time payments securely. This would be a good choice for selling products such as themes, icons, fonts, ebooks and similar products.
Interested in having your own storefront where you can showcase all your products using Sellfy? To visit them online and check it out yourself just click the button below.
If you want to compare Sellfy up to nine other digital platforms (Chec, Zaxaa, SendOwl, etc.) then check out our post "10 Top Digital Platforms Reviewed"
Latest posts by Nam Ybarra
(see all)