The London-based company SendOwl began in 2010 after its founder noticed there weren't any really easy ways to sell digital goods from your own website. Today SendOwl caters to a wide variety of sellers who are looking for ease-of-use and good conversion rates. Check out this SendOwl digital platform review.
Read on to find out if SendOwl is a good fit for your business…
Fees
Monthly fees range from as little as $9 for the Basic plan to $39 per month for the Business plan. If your needs outgrow the Business plan, you can contact SendOwl for a quote on a more powerful plan.
Your monthly fees are based on the number of products you're selling, the number of subscription-based products/services you maintain, and the amount of storage you need.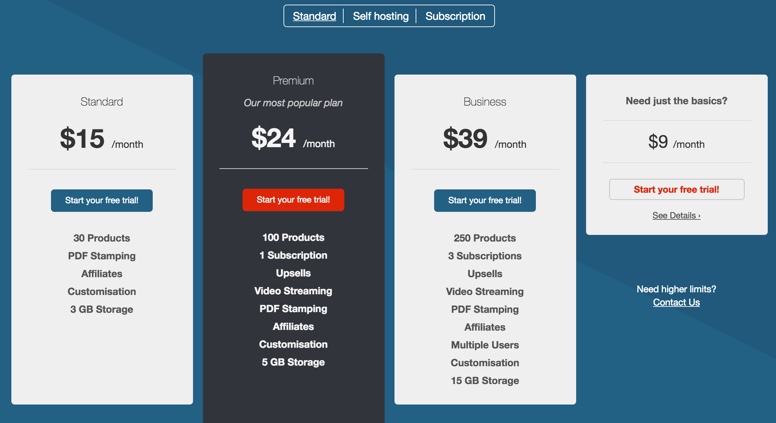 The monthly charges do not include the fees charged to you by your payment gateway. In addition, you may incur extra fees if your files are bigger than 1 GB.
Payment Methods
You can accept payment using the following options:
Stripe
PayPal
AuthorizeNet
Bitpay
Key Features
Let's take a look to see if SendOwl possesses the key features you need to grow your business…
One-Time Payments: Yes
Recurring Payments: Yes, so you can sell subscriptions and memberships.
Trials: Yes, so you can offer free trials for your subscriptions and memberships.
Dime Sale:  No 
Coupon: Yes 
Sales Funnel: Yes, but only upsells are available (no downsells).
List Building: Yes, you can automatically add buyers to your autoresponder.
Hide Products from the marketplace but still can accept sales: No, and this is because there is no marketplace.
NOTE: There is NO option to temporarily hide or deactivate a product. If you need to make a product "invisible" for a while, the only option is to delete it entirely.
Custom IPN to integrate with external/other scripts:  Yes.
Reporting: Yes.
Unique Features
There are two unique features that make SendOwl stand out from some of the competitors:
SendOwl allows you to sell a bundle of products with one click.
You can choose to let your buyers name their own price, which is a good way to build trust, boost conversions, and turn browsers into buyers.
Digital Files Security
This is one area that really sets SendOwl apart from the competitors. That's because SendOwl hosts your files, and they have an excellent, highly sophisticated file-control system built in.
The file-access tools include limited download counts, streaming content, PDF stamping, and content dripping for memberships and subscriptions.

Affiliate:
Thinking about starting up an affiliate program? Here's what you need to know…
JV Profit Sharing: No.
Instant Affiliate Program Setup: Yes.
Instant Affiliate Payments: No.
 Max Commission to Affiliate: There is no restriction.
Automatic Bonus Delivery:  No  (This feature is for affiliates who want to offer their own bonuses, so in this case they'd need to distribute bonuses manually.)
On-form payment: Yes
You get the option of embedding the checkout page on your own website, or you can opt to have your checkout page hosted and visible on the SendOwl domain. Here's an example form:
Platform Integrations/Supported
You have two options when it comes to setting up your payment link. The first option is to copy and paste the buy button code into your sales page. The other option is to send your prospects directly to the SendOwl payment link.
Take note that you can host the files on your own server, or SendOwl can host them on their server. Whether you can host with SendOwl depends on the particular plan you're subscribed to.
Getting Paid
All payments are processed through your chosen payment gateway (such as Stripe, PayPal, and so on), and these payments are available to you as soon as they're processed by your gateway.
For example, if you choose PayPal, then funds will be available instantly to you instantly in your PayPal account.
Another example: If you've configured your payment gateway to transfer funds to your bank account, then your funds will be available to you once your payment processor or gateway has completed that process.
SendOwl is not involved in processing the payment, they do not place a hold on your funds, and they do not take a cut of the payments.
Support:
You can reach SendOwl directly through their helpdesk.
SendOwl also has a comprehensive self service portal available at: https://help.sendowl.com/help
Who Can Use SendOwl?
Almost anyone can use SendOwl. That's because it's user-friendly enough for the beginner, and set up is so fast you can have your site ready in minutes. And yet SendOwl is also powerful enough for experienced sellers, as it has features that many other platforms are lacking.
This platform is especially appealing to product creators who want an easy way to sell their products quickly without coding or setting up a website, while still being able to control file access and delivery with ease.
And the level one can control the files in SendOwl is where this platform truly shines. Some of the top features and options include:
Download only, streaming only or both.
PDF stamping.
Product dripping (for membership sites).
Product bundling.
And more.
SendOwl's team has created a powerful system, yet it is so easy to use and no programming knowledge is required.
One downside is that the affiliate system requires the seller to manually deal with affiliate payments and refunds. We hope that would be changed to automatic in a future update.
Still, aside from that problem, there are so many things to love about SendOwl.
Interested in the user-friendly for the beginner  SendOwl or the powerful enough for experienced sellers SendOwl? To visit them online and check it out yourself just click the button below.
If you want to compare SendOwl up to nine other digital platforms (Chec, Zaxaa, SendOwl, etc.) then check out our post "10 Top Digital Platforms Reviewed"
Latest posts by Nam Ybarra
(see all)