If you've spent any time at all seriously researching support desks, then you've probably heard about ZenDesk. Question is, is ZenDesk a good fit for your business?
Read on to find out…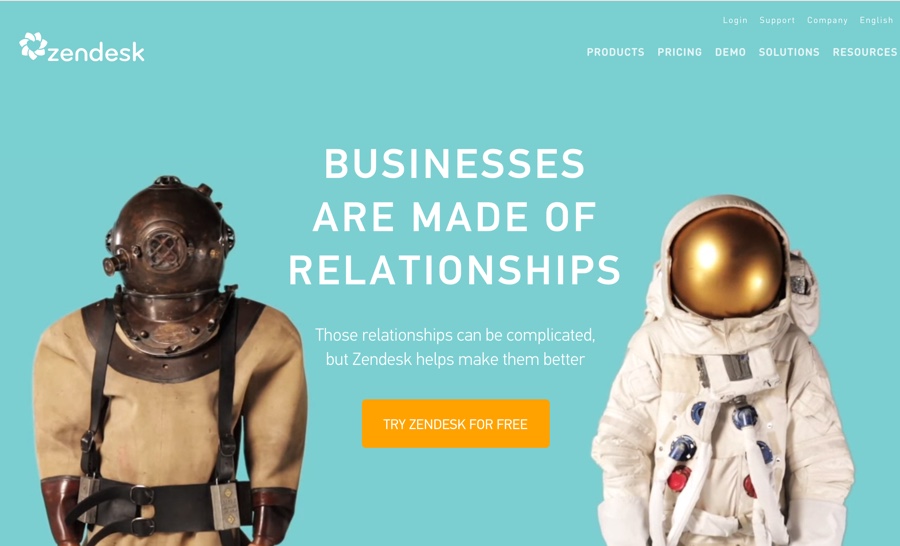 CREATE TICKETS
(Communication Channels)
Via email: Yes
Via web interface: Yes
Via social channels: Yes
Via phone: Yes, but it costs extra.
Via chat: Yes, but it costs extra.
CUSTOMER SELF-SERVICE/COMMUNITY
FAQ: Yes
Multi brand helpdesk support (FAQ/Knowledgebase separate for each product):  Yes. With select plans you can support up to five brands. However, there is also an option to support an unlimited number of brands at an extra cost.
Widget embedding for FAQ, Ticket, Chat: Yes, and it's very stylish (and similar to HelpScout in terms of professional design). You can even embed a live chat form (which costs extra).
It's very clearly labeled and user-friendly, so your prospects and customers will have no problems identifying the widget and what it can do for them. While other help desks have beautiful beacon-style widgets, an inexperienced user may not always realize the beacon symbol is where they can get help. With ZenDesk, there is no question what the stylish widget does.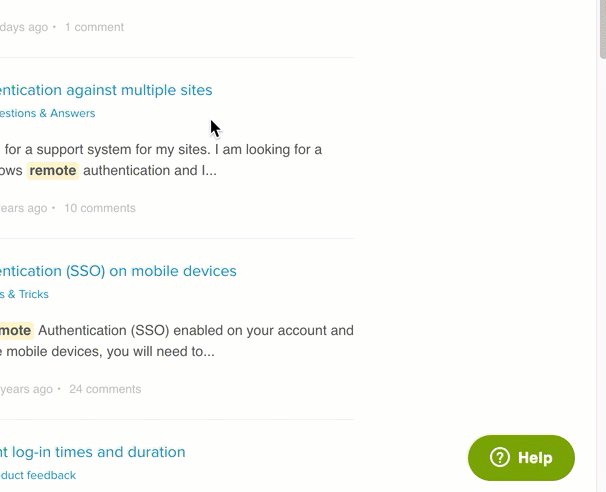 DATA FILTER/ CUSTOMER POINT ON POINT TRACKING
External support: presales questions -potential buyers:   Yes.
Internal support (Ability to pass user data from inside app along with ticket to track which products customer has purchased or used to provide timely and correct support and advanced sales funnel): Yes, but we didn't test this feature.
PLATFORM
Web: Yes
Mobile app: Yes
Voice (call center): Yes, at an extra cost.
STAFF
Multiple agents: Yes. Like most platforms, there is a cost per agent. See the pricing section a bit later for more information.
Private FAQ/knowledge base for internal use: Yes.
Agent performance tracking: Yes
Private notes/ chat between agents: Yes
Agent rating/ Customer satisfaction survey: Yes
HELP DESK REPORTING AND ANALYTICS
Tag, tracking: Yes, very good.
Automation rules: Yes, very comprehensive.
Reporting: Yes. At a glance you can see the number of open tickets, the average time to respond, the number of tickets currently in the backlog and much more. ZenDesk gives you plenty of information to help you make smart training, staffing and other business decisions.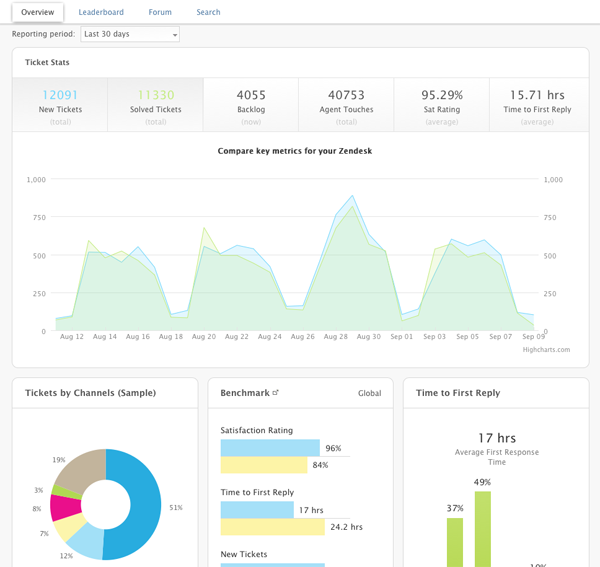 OTHER FEATURES, USABILITY, PRICE
Remote control/access: Yes, which you can achieve by integrating with LogMeIn.
Integrations: Yes. If you're looking for power and flexibility, look to ZenDesk. That's because they integrate with over 300 apps and services across a wide variety of categories, including productivity apps, IT and project management, ecommerce and CRM, analytics and reporting, chat and collaboration and more.
Ease of use:  Overall, ZenDesk has a clean interface and is easy to use. However, some sections don't have intuitive labels, so you will need to spend some time familiarizing yourself with the platform.
Price: ZenDesk has a variety of plans so that you can choose the one that's right for your business. The platform starts for as little as $5 per month per agent, and it goes all the way up to the Enterprise plan which is $99 per month per agent.
Note: You'll pay slightly more if you choose to get billed monthly rather than annually.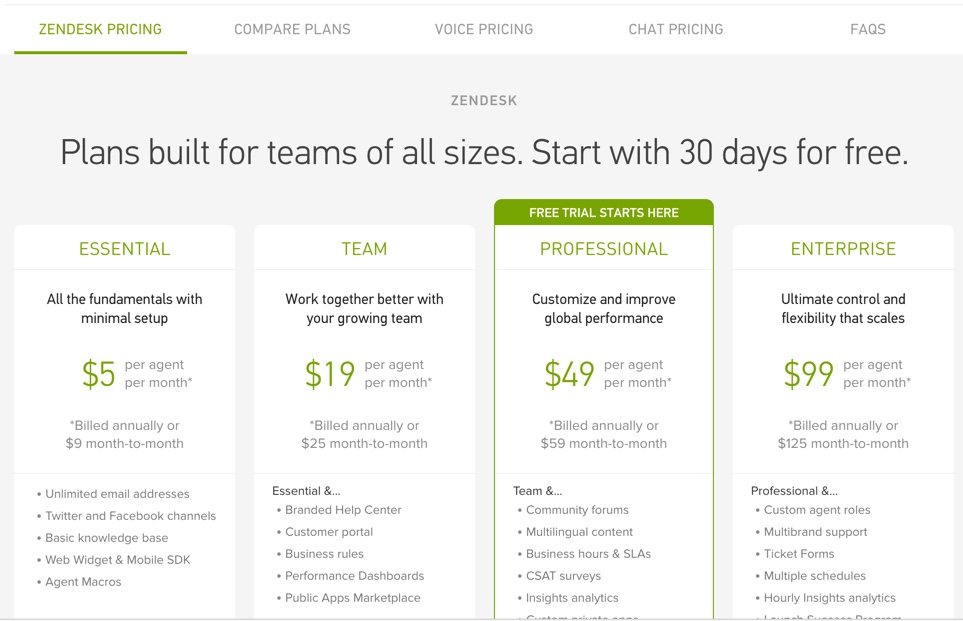 Who can use it: Any small, medium or large business can use ZenDesk, as they have the power, flexibility and pricing plans to meet your needs.
PROS:
Here's what we really like about ZenDesk:
Loaded with features. ZenDesk has a lot of bells and whistles, especially if you choose the higher-tier plans. ZenDesk will grow with you as your business grows.
Powerful yet user-friendly. Even though ZenDesk is loaded with features, it still has a nice, clean interface that's easy to navigate.
Includes hover feature. You can see the contents of a ticket at a glance simply by hovering your mouse over the ticket, which is a convenient and time-saving feature.
In-depth reporting. Not all plans include this feature, but those that do provide a lot of information to help you plan your business.
Beautiful, professional and useful beacon. Best of all, you can include your ticket submission, FAQ and live chat in this beacon (though adding live chat costs extra).
Point and click frontend theme switcher. This means you can quickly and easily change the look and design of your help desk, even if you don't know much about coding.
CONS:
So what's the downside to using ZenDesk?
It gets costly, especially if you're looking to add in a lot of features. But it is a good, stable solution.
If you'd like to learn more about Zen Desk's reliable, flexible, and scalable help desk system, check them out by clicking the button below.
If you want to compare more help desk services up to Zen Desk then check out our post "Help Desk Software Reviews & Comparisons"
Latest posts by Nam Ybarra
(see all)