By Private Invitation Only...
This License Has Generated 
$3,109,729 

In Net Passive Profits For Current Licensees!
We're Now Re-Opening This Offer And You Can
Claim Your Share Of The Pie!
Thanks for checking this out... Before we explain what's going on we just want to mention that this is not a publicly available offer, in fact this invitation page contains some confidential info and we'd ask you (politely) not to share it with anyone else... Thank You
Secondly, and yes... we know this gets over-used a lot, but this really is a 'no-brainer' kind of a deal.
The thing is we already know that you'll make a shed-load of cash if you decide to get involved, but just so you know we're 100% serious, we're putting our money where our mouths are and backing this up with a guarantee that you won't lose a single cent should you decide to jump on-board (more on that in a minute).
Now we can't say "you'll get an exact replication of our results", you might make less (or nothing)... and we know you understand why we have to say that (our lawyers make us)... but the truth is this deal makes money period...
... And better yet it makes money with practically ZERO effort on your part.
So If You Really Run With This You Could 
FREAKIN CRUSH IT!
If you've got a decent number of 'mid-ticket' buyers on your list and you send out just a few emails or add it into your sales funnels you'll get results. Our own flat out lazy, promos pulled 100+ sales and banked $50K+ NET in just a few months time and as you can see above just a small, select group of license owners have already generated net profits exceeding $3 Million for themselves.
Now rather than get all long winded and technical it's probably best to keep things brief and just tell you about the unbeatable offer we're going to let YOU make to your customers...
In a nutshell:
You will be offering your buyers 10 ready made, high converting and fully monetized membership sites.


Your buyers will get highest level access to all ten of the sites themselves (in itself a $470 perk).
They'll become 'official resellers' and can give away free silver memberships to build their lists


They can also use silver memberships as affiliate bonuses or to incentivize their regular product conversions...
... PLUS+ When their members upgrade to Gold membership your buyers get 100% payments paid directly into their PayPal accounts.
And we manage everything for them - The whole system work's like clockwork, we've battle-tested it, tweaked it and it's practically an impossible to refuse proposition.
The 'evergreen', hot topic, member content is 'Kick Ass' level 

(

so you'll be helping your customers look like heroes to their buyers

) ...
We mail the member database with regular promotions that each carry the reseller's Paykickstart, JVZoo, Zaxaa and ClickBank IDs built in...
We maintain all of the sites and we provide all the marketing materials and training they need to make cash from day one.
We even provide round the clock, 'white label' support for all their customers.
We've Invested Over
 $300,000 

Developing, Supporting And Building This Network Of Sites 
So You Don't Have Too...
It's point and click simple for your buyers (which they'll love) - They'll be instantly in business and it's 100% hassle free. Needless to say it's not going to be to too big a task to persuade them that grabbing a reseller licence for an entire network from you is a wise move.
Their investment is just (minimum) $497 and all of it is paid directly to you.
You Can Charge More! We recommend you price the offer at $497 for best conversions but we've also tested at $797 will solid results - In fact, when we first briefly opened up this opportunity to the public at large for $1,000+ it brought in close to half a Million Dollars from eager buyers in less than a week!
We Explain Everything Fully On The Offer Page
Click The Button Blow (it'll open a new window) - You'll Get A Copy Of The Page To Make The Same Offer To Your Buyers
But back to you and why we invited you here...
We want to give you the opportunity to sell this block-buster offer directly to your customers.
We have a fixed minimum price point of $497 but you can set any amount above that if you prefer.
And you get flexibility, you can include this offer as part of a product package (anything you sell for $1,000 or more)
Here's Just a Few of The Ways You Can
Profit From This Offer:
Use the proven sales letter and sell directly as a front end product

Integrate the offer as an upsell/upgrade to an existing product

Send the offer out as a 'flyer' with physically shipped products 

Sell it via teleseminar or webinar (use the copy as a script)

Sell it on stage as part of your 'Speaker Package'

Recommend it to your coaching students (build training around the sale)

Include it in your package increase your high ticket product conversions (see pricing terms above)

Product Launch It... Add it to your affiliate program... etc. etc. etc.
(And don't forget you can create your own personal membership reseller account and promote the individual memberships yourself directly. Gift silver memberships as bonuses and earn directly on the upsells)
There are just two rules: Sell for a minimum of $497 on it's own... or include it if your product costs $1,000+ 
So How Does It Work?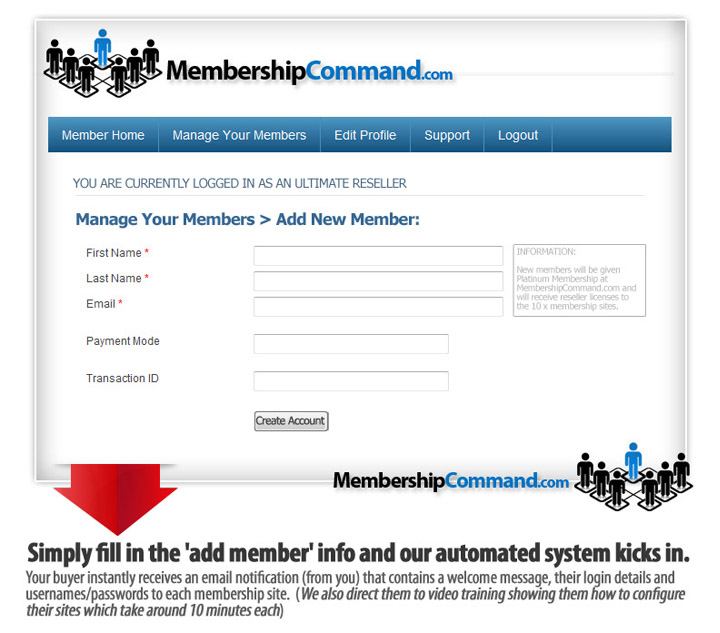 It's really easy:  We've re-jigged our system and set up a 'higher level' of membership for this entire network, we'll give you secure access to a 'God' panel where you can add your customer's info (name, email, transaction info/references etc.)

If they have any technical issues... (they won't, but just in case)~we handle that behind the scenes on your behalf...

It takes 30 seconds to activate the account and that's it!
Promote the offer, collect payments however you choose and then simply add your buyers into the system via your secure admin panel.

(NOTE: You can also delete accounts just in case anyone requests a refund and add notes about each customer where they bought, how they paid etc.)
To clarify: All transactions are managed by you (not us) collect the cash however you like!
Warm Up Your Client List And
Run A Proper Promo And You Could Easily
Hit $20-$50K Before You Know it!
But back to what we said at the top of this page and about our 'no-risk' guarantee:
That pretty much covers everything about the offer, but just to add - In addition to your license and access your the admin centre, we'll also be providing you with the sales letter/graphics. (You can use that as is, chop it up, turn it into a presentation - Anything you like).
Plus+ we'll include all the graphics and images you need to create your own marketing materials with.
Off course you'll also automatically become a reseller at all ten sites yourself, so in addition to selling the 'big' offer you can also market each of the membership sites yourself. (NB: resellers are making serious cash doing this and by simply adding the provided 'Bonus'- Free Silver membership' boxes to their 'Thank-You' pages...)
​Q: Is there a limit to the number of people I can sell this offer to?
A: No limits, you can sell as many membership reseller licenses as you like.
​Q: Is there an annual licensing fee or renewal fee?
A: Yes. Your license will be renewed at the same rate each year as long as your subscription remains active

"I've sold and bagged $19,058 in commissions from Simon & Jeremy's memberships"  --  Edmund Loh
"I've made more money from selling your products than anyone else's in this industry"  --  Liz Tomey
"Jeremy & Simon constantly create some of the best PLR for your money"  --  Paul Counts
"Jeremy & Simon never fail to over deliver on every licensing package they put together"  --  Jeremy Burns
"It's rare to find such high quality offers that deliver a huge return on investment"  --  Calvin Woon
"No warm up, just a totally out of the blue offer and within 24 hours have recouped my investment"  --  JP Schoeffel
"The quality of the memberships my resellers get from me is amazing"  --  Richard Legg
"We've already made a hands-free $50K with your licenses - Very Cool!"  --  Soren/Cindy & John
"I'm always on the lookout for high quality licensing deals and Jeremy & Simon's are the very best"  --  Dave Gale
Content