Zaxaa is a well-known that developed a solution to simplify and automate the process of selling, delivering and managing products online. One of their features is a WordPress plugin (Zaxaa Member) that you can use to create and manage your membership site.
Is it a good fit for your business? That's what this Zaxaa Member review will help you decide.  Let's take a closer look…
Fees: 
Zaxaa Member is part of the Zaxaa payment gateway, and the good news is that it's free for Zaxaa customers.  To learn more about the Zaxaa payment gateway, check out our Zaxaa payment gateway review here.
As such, when you're determining pricing, you'll need to look at the Zaxaa pricing for their gateway, as shown below…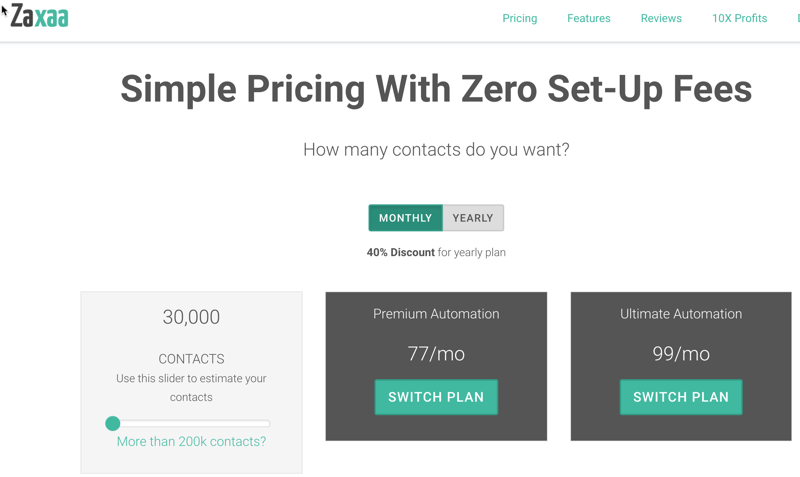 Click the Button Below to check out the slider  to estimate your contacts and learn more.
Type:
Zaxaa Member is a WordPress plugin. It requires a self-hosted WordPress installation in order to work. This means you need to have your own hosting and domain on which you've installed WordPress, plus and active Zaxaa Member plugin.
Key features
Note: Because of the way this plugin is set up through Zaxaa, almost all settings are done via your Zaxaa seller account. Only a few items are done via the plugin itself, including reporting, content protection, and setting up your members' area.
Zaxaa's workflow is done nicely.  Most elements are on one page that's easy to navigate.  Overall it is pretty user-friendly, especially considering the powerful and sophisticated layers of its built in functions and features.
Payment supported: Stripe, Authorize.net, PayPal, and 2Checkout  and you can check out our reviews on payment gateways here.
One Time/Recurring Payments/Trial: Yes. Whether you want a one-off "vault" styled site or a recurring membership, Zaxaa has you covered. Plus you can also offer trial memberships as a marketing tools.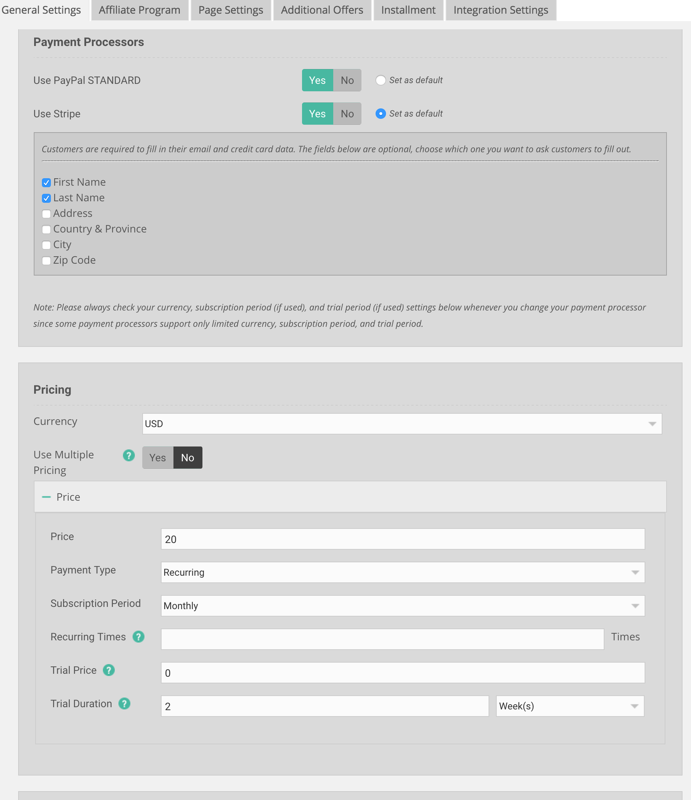 Coupon: Yes, both you and your affiliates can offer coupons, as coupons can be tagged to a certain affiliates.
You can offer both percent-off coupons as well as direct dollar-off coupons. For example, you can offer a "25% off" coupon, or you can offer a "$10 off" coupon.
Note: You cannot offer a coupon discount that makes the product 100% free. The product must be sold for at least $1 after the discount is applied.
However, Zaxaa does offer a "Free Product" option, so you can use that feature if you'd like to giveaway a product.
Sales Funnel: Yes, you can offer both upsells and downsells during the ordering process.

List Building:
List Building: able to add buyers to an autoresponder?  Yes .
Support: Aweber, GetResponse, MailChimp, ActiveCampaign, and iContact. Zaxaa also supports an HTML form so you can use it with other providers as well. You can also use different providers for different products. If you have not chosen your email/autoresponder service yet, you can check out our reviews on the "Top 5 Email Marketing Software | Compared & Reviewed" here.
Built-In Affiliate Program: Yes. Zaxaa's affiliate system is very sophisticated. To learn more, check out our previous our Zaxaa payment gateway review here.
Content /File Protection
(Take note that these tasks are done via Zaxaa Member plugin.)
Drip-feed content: Yes, you can upload content and schedule it to "drip" out over time to your members.
File Protection: Yes, this system protects pages, posts, categories, and files. It also protects AS3 files, which is very handy for those who store files using Amazon Cloud storage.  Your content is protected with a password and  IP login limit.
Content teaser:  Yes. Zaxaa lets you protect partial content.
For example, you can set up a post where the beginning of the post includes teaser content for people who are "Silver" members of your site. Then the second half of your post might be premium content, which is only accessible to the "Gold" and "Platinum" members of your site.
Membership and Products:
You can set up an unlimited number of memberships and products.  However, do note that Zaxaa's monthly fee is based on number of contacts. See the pricing section above for more information.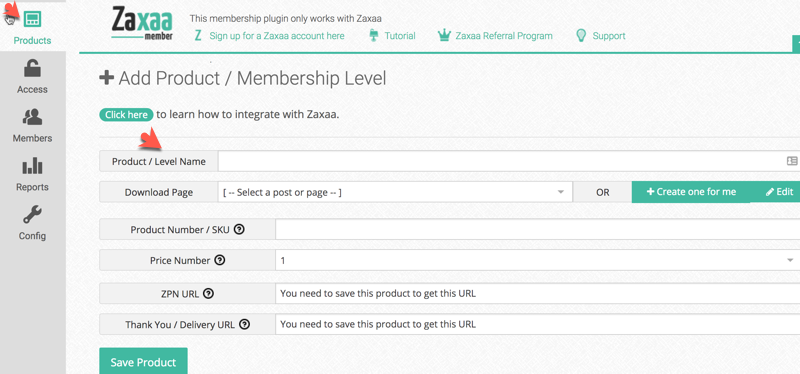 Customer self-service:  Yes, your customers can update their information, upgrade their membership, or cancel their billing directly from their accounts. However, the ability to do this depends on which payment gateway you select (such as Stripe).
Admin can manually add/edit/manage members: Yes, you can make these changes directly.
Auto upgrade or downgrade membership: Yes, but depends on the payment gateway, as not all of them support this function.
Integrate with other platforms:
Custom IPN to integrate with external/other scripts:  Yes, but does require some technical knowledge to complete this task.
Reporting: Yes, Zaxaa provides you with data to track performance.
Members' activity log:  Yes, you can keep track of what your members are doing and which features are popular.
Ease of Use
The Zaxaa Member WordPress plugin itself is very simple and very easy to use. However, most of the set ups are done via the Zaxaa seller account, so there are some learning curves, but it won't require weeks or months to master.
The payment configuration is surprisingly straight forward, simple to set up, and can be done directly via your Zaxaa seller dashboard. (We've noticed that typically setting up payments tends to be complicated with other solutions, so Zaxaa's ease and simplicity was a breath of fresh air.)
Unique Features:
What's unique about this plugin is that it integrates seamlessly with the Zaxaa payment gateway, so you get  all the bells and whistles for "free" (you only pay for the gateway – the plugin itself is free to those who use Zaxaa).
Support:
Support is available via both a helpdesk and through live chat.
There's also a comprehensive self-service FAQ portal available, so your questions are likely to be answered within the portal.
Our Thoughts on Zaxaa Member
Zaxaa Member is designed to use with the Zaxaa payment gateway, and so the plugin itself is free to sellers. We found the payment gateway to be a sophisticated and powerful system. It is well built, and it's loaded with features that typically require a combination of different services (and therefore would cost much more than its current pricing structure).
To learn more about Zaxaa Member and whether it's a good fit for your needs, click the button below.
If you want to compare Zaxaa Member up to six other membership website services (WishList, MemberMouse, InstaMember, etc.) then check out our post "Membership Website Services Review"
Latest posts by Nam Ybarra
(see all)